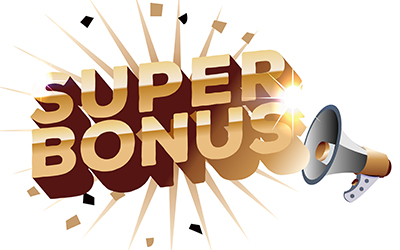 It's not often you come across bingo promotions that allow you to keep 100% of your winnings, and it's even rarer to find one that offers that and bonus spins with a no-win cap, but Bingorella does both. The new weekly rewards have four levels and the more you deposit and play, the more you receive. Whether you're a casual player who likes to play once or twice a week or an avid bingo player who logs in daily, this is the perfect promotion for you.
The rules are simple; deposit and spend the stated amount from Monday to Sunday and reap the many rewards. There are no promo codes to pop in because there's a unique system in place that will monitor your progress on your behalf.
Easy as 1, 2, 3, 4
With so many different bingo games to choose at Bingorella from and hundreds of the very best online slots, it's super easy to work towards the weekly rewards. Take a peek at exactly what's up for grabs below:
Level 1: Spend between £20 and £49 to receive 10 bonus spins, a spin of the rewards wheel and 3 free bingo tickets to Wacky Specials bingo game
Level 2: Spend between £50 and £99 to receive 15 bonus spins, two spins of the rewards wheel, 6 free bingo tickets to Wacky Specials bingo game, 1 free ticket to the £10K monthly game where £10,000 is guaranteed to be won and 20 seconds of slot spinning action
Level 3: Spend between £100 and £199 to receive 25 bonus spins, three reward wheel spins, 12 free bingo tickets to Wacky Specials bingo game, two tickets to the £10K bingo game and 45-second speed spins
Level 4: Spend £200 (or more) and receive 50 bonus spins, five reward wheels, 24 free bingo tickets to Wacky Specials bingo game, five £10K game bingo tickets, 90-second speed spins and a spin of the VIP wheel.
Remember, any winnings accumulated across these rewards are wager-free and for those of you who are not exactly paying attention, this means being able to keep 100% of your winnings with no exceptions! Plus, the bonus spins could be for any of the slots listed; will it be NetEnt's cosmic Starburst or Eyecon's out of this world Fluffy in Space Jackpot game? Who knows!
Here's a tip: that speed spins vouchers will allow you to spin away on a pre-selected slot for between 20 and 90-seconds, which isn't long when you think about it, so turn on turbo mode if it's an option and those reels will flow a hell of a lot quicker than usual. Plus, if you double-tap the mouse of the screen with your finger when the reels are spinning, they will come to a stop even quicker, and this allows you to make the most out of this offer.
Kayleigh39