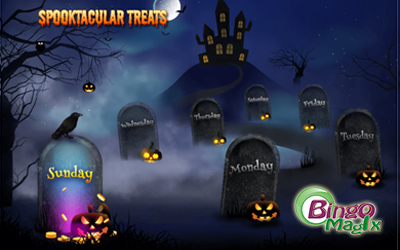 A spine-tingling selection of treats have been packed into a total of five fun-filled promotions at Bing Magix this month, which means more chances to get your hands on some super cool rewards, starting with the spooky tasks special; simply complete the stated tasks and receive a games bonus, bingo bonus, bonus spins or free bingo tickets each day…
…Sunday's seems to be popular because all you need to do is log in, opt-in and claim 10 free bingo tickets!
Enchanted Tasks
There's nothing better than a bag full of treats on Halloween, but what if we told you, you can get treats every week until Halloween? Sounds great, yes? Here's how it works: to benefit from a bag full of frightening and delightful weekly games bonuses, simply complete the tasks below:
Week 1 (1st to 7th): Opt-in and make at least one deposit each on any 3 different days to receive a £10 games bonus.
Week 2 (8th to 14th): Opt-in and wager at least £200 real money on slot games to receive a £10 games bonus.
Week 3 (15th to 21st): Opt-in and wager at least £100 on any casino games for a £10 games bonus.
Week 4 (22nd to 31st): Opt-in and wager at least £50 on any scratch cards for a £10 games bonus.
Spinning and Grinning
Play any of the hundreds of online slot games available (including the fabulous jackpot games) at Bingo Magix to stand a chance of winning a share of £250 each day in the daily slot tournaments. Every £20 wagered will award you 1 point and the top ten players on the leader board will win a share of the cash. So, the more points you have, the more chance you'll see your name in lights. The first-placed player will win £70, the players in positions 2, 3, 4 and 5 will win £50, £35, £25 and £20 respectively whilst players in positions 6 to 10 will win £10 each – and all prizes are wager-free.
More thrills are yet to come with the bonus spins giveaway where five players will win 50 bonus spins each, every week! Play any of the exclusive games listed on the promotions page to qualify.
TGIF's and Bargain Basement Games
Make your way to the Big Ben room each Friday between 6pm and midnight to see if you're lucky enough to win a share of the thousands of pounds up for grabs. Prizes of £1000 and £1500 can be won in each of the sliding jackpot games, which means the quicker you call house, the bigger the chunk of cash you'll win.
Early birds will enjoy the bargain basement games being played in the Devoted Dabber bingo rooms each day this month, because a 1p bingo ticket could see a generous cash prize winging its way to your bankroll between 8am and 9am. This promo is so good, Bingo Magix repeat it again between 4pm and 5pm – so don't miss it!
These promotions are not the only ones found at Bingo Magix, there are free bingo games and many other offers to try your luck with.
Kayleigh39