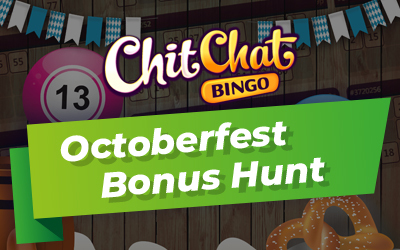 Here's your chance to get your hands on some super rewards thanks to Chit Chat Bingo's Oktoberfest-themed promotion and we don't mean litres and litres of ale. How does bonus spins, bingo tickets, real cash and Amazon vouchers sound? And all you need to do is log in, play your favourite games and work your way towards the many rewards.
Between now and October 6th, you can benefit from a series of perks, but the bonuses you receive will be based on the amount you spend. A minimum spend requirement of £100 is the first level which means you must reach this within a week (Monday to Sunday) – if you do that, then you're guaranteed to receive something.
Full on Bingo Fun
Are you wondering why Chit Chat chose Oktoberfest for its promotion? It's because the world's largest beer festival is set to get underway shortly and despite being based in Munich, the celebrations also take place here in the UK! Pretzels, ale in large tankers and waitresses dressed in traditional Bavarian Tracht (dresses) are guaranteed but there's no need to board a plane to get involved, head to Chit Chat Bingo before 6th October.
Take a peek at the rewards up for grabs and what you need to spend below:
Wager £100 and receive free bingo tickets to the Royal Room (10 tickets) the 90-ball bingo room with three chances to win in each bingo game
Wager £250 and receive 25 Royal Room bingo tickets
Wager £500 and receive 50 Royal Room bingo tickets and 5 tickets to the monthly Big Bang bingo game. Every 10th of the month, £10,000 is guaranteed to be won and even losers win in this game.
Wager £750 and receive 75 Royal Room bingo tickets and 10 tickets to the Big Bang £10K bingo game
And the Rewards Continue
Wager £1,000 and receive 100 Royal Room bingo tickets and 15 tickets to the Big Bang £10K bingo game
Wager £2,000 and receive 100 Royal Room bingo tickets, 20 tickets to the Big Bang £10K bingo game plus 20 bonus spins. Chit Chat Bingo is home to hundreds of the very best online slots and the bonus spins can be credited to any of them, although it's usually for Starburst - the bobby-dazzler by NetEnt
Wager £5,000 and receive 100 Royal Room bingo tickets, 20 tickets to the Big Bang £10K bingo game plus 50 bonus spins
Wager £7,500 and receive 100 Royal Room bingo tickets, 20 tickets to the Big Bang £10K bingo game plus 75 bonus spins
Wager £10,000 and receive 100 Royal Room bingo tickets, 20 tickets to the Big Bang £10K bingo game plus 100 bonus spins
This is where things get bigger and better in terms of bonuses:
Wager £15,000 and receive 20 tickets to the Big Bang £10K bingo game, 100 bonus spins, £15 real cash credited to your bingo account and a £50 Amazon voucher
Wager £20,000 and receive 20 tickets to the Big Bang £10K bingo game, 100 bonus spins, £30 real cash credited to your bingo account and £100 Amazon voucher
Kayleigh39