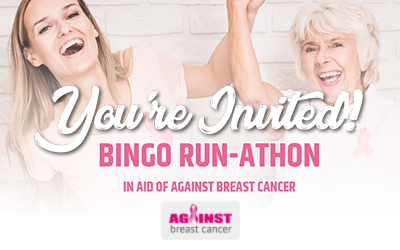 Cancer is a terrible condition which affects so many people worldwide, I know too well how devastating the diseases can be, after watching my mother battle breast cancer in 2014. Thankfully, due to pioneering medicines, she made it through after major surgeries, but there isn't always a happy ending, which is why charities hold a series of fundraising events to aid research into eradicating the disease once and for all.
From fun-runs to bake-athons, millions of people up and down the country actively take part to help fight cancer, but this time, you're not required to bake it or fake it, you can help vital research by playing online bingo.
Sunday 28th April, the Bingo run-Athon fundraising special will kick off across a handful of Dragonfish powered bingo sites, including Chit Chat Bingo, BingoZino, Bid Bingo, Loadsa Bingo, Pink Ribbon Bingo, Bingo52 and LoveHearts Bingo, where cash and bonus spins can be won, but with it being for charitable causes, the amount on offer won't be life-changing, but it's generous nonetheless. As part of a vibrant bingo community, you can support the runners of the Virgin Money London Marathon 2019 who are raising vital funds for Against Breast Cancer; just purchase your tickets into the games and you're doing your bit!
Between the hours of 7pm and 9pm, players will be competing for the following prizes:
One-line: £1
Two-lines: £1.50p
Full house: £2.50p
1TG players will share 20 bonus spins
2TG players will share 10 bonus spins
Who are the Runners:
The networked bingo websites will be supporting four runners and you can hear why they're running and who they're supporting below.
Natasha and Rob Dedman: "We will be taking on the 26.2miles around London on April 28th, 2019. This will be Tash's 3rd London Marathon and Robs biggest challenge to date as it will be his first marathon, we are super excited to be running it together. We are honoured to be running for Against Breast Cancer. It's a charity close to our hearts as Tash's brave mum has battled breast cancer twice Please help us reach my goal of £3000, all donations are highly appreciated."
Stacey Clemes: "I am honoured to be taking on the challenge of completing the London Marathon in 2019 in order to raise funds for Against Breast Cancer. As breast cancer is the most prevalent cancer in women, I wish to raise funds to support further research into the treatment and prevention of the disease. Family members and good friends of mine have been affected by breast cancer and I am taking on this challenge for them."
Bob Gearing: "My mother had breast cancer in 1977 I was 13 years old. She had a Mastectomy and treatment of radiotherapy following the operation. I don't think at the time I realised the possible implications, my mother after all was there as the linchpin of our family. Thankfully 41 years later she is still with us continuing to be an inspiration to our family. I'm raising money on behalf of Against Breast Cancer in recognition of my Mum and what she went through and the courage and determination she has shown."
Nicholas Drew: "I was inspired to run for Against Breast Cancer as I was personally affected when my mum was diagnosed with breast cancer when I was young. Despite having fought for many years so bravely, the cancer reoccurred as a secondary spread and I lost her when I was 22. I found running brought me some solace in coming to terms with that loss, and I decided that I wanted to run the London Marathon in her memory and to help others. Then last Christmas, my family was hit by the news that my sister had been diagnosed with cancer at the age of 33. Luckily her surgery has been successful, and she is recovering well. The way both my mum and sister fought cancer with such strength and courage has been inspirational to me, and certainly something I will draw on when finding the strength to drag myself along Pall Mall to the finish! The fact is that too many people are continuing to be affected by cancer, something we CAN beat through scientific advancements. Against Breast Cancer fund unique research at Oxford University into prevention, earlier detection and developing new treatments. Their ultimate mission is to develop a vaccine - a goal I am certainly willing to run a marathon to support. They have made great strides with research in recent years, but with around 11,500 deaths each year in the UK alone from breast cancer, there is still some way to go. Thank you for all your support - I really appreciate it. All donations up to £500 will be matched by Warner Bros., so whatever you're able to give will go twice as far!"
Don't forget; 7pm to 9pm on Sunday 28th April! Be there to show your support and give cancer the big finger!
Terms and conditions apply.
By
Kayleigh39