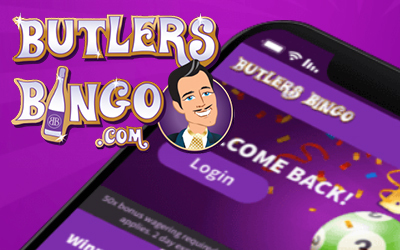 A lot has happened in the past few days; a popular site has undergone a visual makeover and I wasn't even hit with a closure period! Splashes of paint and a dramatic new look have been implemented whilst the bingo site was still up and running and boy, am I impressed. There's a bold new look in place of the old website, which wasn't exactly a mess, but the new changes are impressive.
On the welcome page, you have lots of confetti and many references to bingo. The latest winners, whether they be big or small, will now be featured as part of a scrolling reel feature. Bingo rooms take up pride of place to the top of the page and go into much detail about what you can expect…
…existing players know what to expect, but newbies don't. With the previous bingo website, players would have to register before being shown the bingo schedule – but not anymore! Scroll beyond the bingo and you'll find a huge range of slots, table games and jackpots. Of course, I am talking about Butlers Bingo.
Now, one big gripe I had with the previous site was the fact that you couldn't see what was on offer without logging in – the new games lobby is superb, allows for easier navigation and places everything into handy categories. Recently added titles include; the brain-eating Zombie Hoard, the Norse mythology-themed title , Arctic Valor and the cool, Icy Gems.
Top Picks:
Promotions remain the same, which is great - no new additions here but what you already have is an abundance of free bingo games, jackpots that are guaranteed to be won, bargain bingo games and best of all; the slot sprints where prizes for wins not wagering are guaranteed. Win your way to the top of the Slot Sprints leader board for your share of over £3,500 in cash prizes and bonus spins each week…
…this fast-paced tournament format awards prizes for wins, not wagering – one-win equals one point on the leader board; so, the more wins you have (of any value), the more points you'll accumulate. Sprints include one 48-hour and five 24-hour sessions weekly and the featured slots and prizes will change.
Butlers Bingo now proudly showcases its Trustpilot score on the welcome page, allowing you to read other players views on the bingo site – all impartial, allowing you to make your own mind up. Currently, the Butler scores a generous 8.3 out of 10, so he must be doing something right.
If you fancy a slice of purple heaven, new customers will be treated to a 100% bingo bonus (up to £50), meaning a £50 deposit would become £100 to play with! Keep your eyes on the rewards section of the promotions page as this is where any additional perks and fringe benefits will appear as you play.
Oh, you'll notice big changes on the mobile bingo version too! Why not log in (or register) and see the changes for yourself!
Kayleigh39