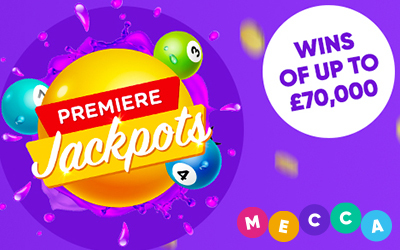 Play Bingo Games To Win Multiple Prizes
From slots to bingo rooms, casino games to instant wins, Mecca Bingo is bursting with jackpot win potential, and there are even more ways to win a jackpot than you probably think! Deal or No Deal, Rainbow Riches Bingo and even Britain's Got Talent Bingo all have their jackpots, but so do a lot of other rooms too!
Mecca Bingo have been entertaining the nation for more than six decades and one of the reasons why they're so popular is their exclusive premiere jackpots feature. These special jackpots are linked to a number of rooms and on average, 15 jackpots are won every day. Whether you're playing penny bingo games or maxing out in the Emoji bingo room, you've a chance to win phenomenal cash prizes in addition to the full house winnings.
Play For A Penny To Win Mega Pounds
Since launching in 2019, Mecca Bingo's premiere jackpots have paid out more than £3million to thousands of players. We've even seen the same person winning multiple jackpots, so you could end up winning more than the one…
…just like sweet-cucumber did when her streak resulted in 6 big jackpot wins in just 4-years, netting her a total of £80K in cash! There are no sure-fire ways of winning a jackpot but winning a full house in any of the participating rooms will boost your chances. Look for the bingo rooms bearing the red crown icon as these are the only bingo games that offer that additional jackpot prize feature.
There are five possible jackpots to be won on top of full house prize money at Mecca Bingo, and the value remains the same whether you are a bargain bingo ticket player or someone who likes to purchase the maximum number of cards. The bronze jackpot is the smallest, won on average every two hours with a fixed prize pot of £10. This means the bronze prize will only ever be £10. Other jackpots are as follows:
Premiere Silver Jackpot: This jackpot is won on average twice every day. The prize is fixed at £50.
Premiere Gold Jackpot: Higher than the silver jackpot, this one is won on average once a day. The prize pot is fixed at £100.
Premiere Platinum Jackpot: This jackpot starts at £5K and is won on average twice a month. The jackpot will grow until it is won. This one has grown to more than £10K in the past.
Premiere Diamond Jackpot: The largest jackpot of them all that starts at £10K and is won on average once a month. Previous diamond jackpots have been known to reach more than £70K!
The most recent winners include player tentontess who won £22,937.25p (platinum jackpot) in the Two Little Ducks room; JACKMCK who won the platinum jackpot of £25,550.53p in Penny Lane – the penny bingo room; Accadi who bagged himself the platinum jackpot of £23,749.74 in Burst (an explosive vertical!) and sputnik3 who won a massive £40,327.88 (diamond jackpot) in the Main Event bingo room. Will you be the next big Mecca Bingo winner?
Kayleigh39