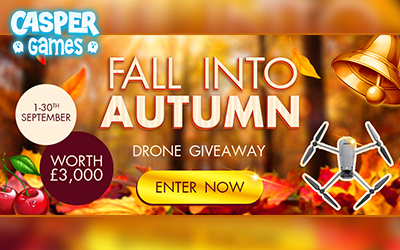 Pick Up A Picture-Perfect Prize This Fall
What do you get when you mix good fun with good prizes? Casper Games, the spooktacular online bingo and games website packing some serious thrills. This month you could be one of many winners taking home spine-tingling surprises ranging from cash lump sums to top-of-the-range tech. If you fancy your chances at scoring one of the many prizes available this month, all you need to do is qualify for the promotions and we're here to tell you how!
Step One – You need to be a registered player before you can enter any of the promotions or claim any free offers. Standard stuff. Sign up in just a few clicks, whether you take the time to type your details in yourself or choose the quicker version of linking your PayPal account to your Casper Games account.
Step Two – Get verified. What other review websites don't tell you is that in order to play, win and withdraw at Casper Games you need to confirm you are who you say you are. Go to your account, click on "upload documents" to get the ball rolling. There are three pieces of information required:
Photo ID: You'll need a smartphone for this as it requires players to snap images of their driver's license or passport. Oh, and you better make sure you brush your hair too because it will want a selfie too, purely for verification purposes.
Proof of Address: A recent utility bill (dated within last 3 months) is required. This could be a letter from your bank or bills from all manner of places such as satellite TV services, mobile phone contracts and such.
Proof of Payment: An image of your payment method linked to your Casper Games account. If uploading a bank card, make sure to cover the middle 8 digits for your own security. If you prefer to use PayPal, take a screenshot of your PayPal account showing your name and address on it.
Step Three – Enter The Draws:
Now that's all sorted you can then take part in the multiple promotions for a chance to win some terrific prizes. Up first you have the scratchcard special where every £10 wagered on instant wins gets you an entry into the £1K monthly draw. Play any scratchcard games between the first and last of the month to stand a chance of winning that wager-free cash lump sum.
Prize draw two is the biggest with a drone package worth a staggering £3K! Take aerial videos and images from absolutely anywhere with this superb piece of kit. Not a fan of photos/videos? There's a cash alternative of £3,000! Winner's opting for the cash sum will see £3K credited to their Casper Games account.
Other offers and promotions include bingo community games played daily with £500 going to the full house winner and £500 being shared with the remaining players, plus there's £60K in bingo jackpots to be won every month in the Country Roads room and £28K a month in speed bingo games too! That's not all, bonuses and casino spins packages, a 4 in 5 chance to win real cash every day and happy hours mean more great value fun regardless of your budget.
Kayleigh39