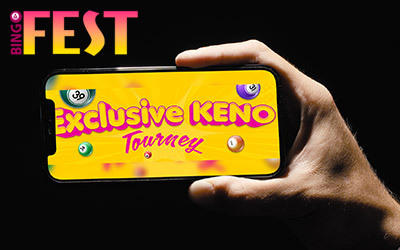 Bingo Fest has been delivering top bingo and gaming entertainment to the masses since 2003. Promotions range from bingo tournaments and no deposit bonus spins deals to slots tournaments and cashback however, as exciting as all these are, the biggest of thrills is still yet to come…
…the big bingo party! Hosted once a month, the Bingo Fest party comes complete with guaranteed cash and big value ticket offers! No need to be on a guest list nor do you need to have a certain loyalty/VIP status, all you need is a bingo card - whether you pre-buy or buy on the night you're welcome to join in.
Look For The Big Offers
On Sunday 28th of August, $18,200 is guaranteed to be won in 10 warm-up games and that major event. The cards for the warm-up games can be bought for $1.82 each and the cards for the main event will be priced at $4.55 each. The good news is there is a promotion on those cards - buy 3 and get 2 free!
The one-off monthly event is hosted in the tourney room from 12am CEST with 10 top of the hour games paying $910 each. The main event will begin at 5am CEST with a mega $9,100 up for grabs!
Other Bingo Fest promotions this month include:
Beach Bingo Tourney: Join in the fun every week between Monday and Tuesday for your chance to win $1,116 in cash! A weekly prize pool of €2,859.75 will be split among the top 40 players. Cards cost 33c each, but they're also running a card promotion of Buy 7, Get 3 free.
Slots Tourney: Every Wednesday and Thursday you will have the chance to win $400 cash by playing Betsoft slots. It's not who wagers the most wins, it's whoever gets the best equalized win over 3 consecutive rounds!
Newly Launched Free Games Feature: Deposit a minimum of $30 every Sunday and Monday to claim up to 150 bonus spins! Four deposit levels (three excluding VIP), with 30, 60, 90 and 150 bonus spins options. Play The Hive, Great Golden Buffalo, Super Sweets and/or Flip Wonderland for free!
Exclusive Keno Tourney: This weekly event kicks off every Saturday and Sunday and gives players the chance to win $200 cash on top of all other prizes available. The leader board is based on total winnings by amount.
Special Weekend Bonus: Deposit every Friday and Saturday and get a boost to your bankroll of up to 150%! Four deposit tiers including the VIP option. Rewards of 50%, 75%, 125% and 150% up for grabs.
Cashback: Win even when you lose between every Tuesday and Thursday! Bet $15 or more and receive a 25% cashback.
Diamond Room Specials: Diamond room bingo games are everyone's favourite with cash prizes of up to €14,850!
Plus much more! Equal chance bingo games, guaranteed prize games, reverse coverall where you win the biggest prize on the line and free bingo games are all waiting to be discovered at Bingo Fest.
By
Kayleigh39