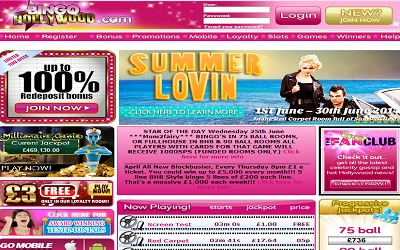 Hollywood is the home of the celebrities and those who want to be celebrities. It's also home to bingo players via Hollywood Bingo. Bingo players are winning big and we can all live the glamorous life as players at this online bingo site.

The major promotions are based on the 2014 World Cup in Brazil. Even bingo players are getting in on this sports action. I must admit, I'm not a football fan. I have to be careful who I say that to because I might get myself into trouble but I figured it was safe to mention it here since we're all bingo players. Practically every man I know has been glued to the World Cup games. They're either placing bets or watching with a few beers while I try to convince them to get interactive and play bingo games.

Bingo Hollywood is offering a team bingo event in honor of the World Cup games. You must really be a bingo fan though because in order to be eligible to win a portion of the prize with your team, you must play a minimum of 100 games per weekend. That's a lot of bingo!

I was a bit surprised to see that rule but I had forgotten all about it once I jumped into a 90-ball bingo rooms. Cards were on sale for 5p and I started out slow with just 24 cards. There are times when I play bingo games and I feel like I've got cards from another planet. None of my cards fill up and if they start to, blank cards start filling up out of the blue. Anyway, it was one of those games for me.

Needless to say I hadn't won my first game and I didn't expect to. Sometimes I don't even win my second, third, fourth or fifth game. I played in several games before switching things up and moving to 75-ball bingo. I had already made plans to play some slots if this bad luck continued.

I bought the max number of cards and noticed that there weren't very many players in the room. Hopefully that would go in my favor. The first game came and went as did the second and third. I took a break from it all and realized that it just wasn't my day.

I decided to save my pennies and avoid the slots. Besides, there were plenty of my friends watching the World Cup. I could sip a beer and pretend to be interested, right?
By
Glo Wood