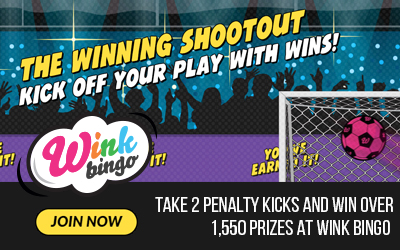 We have already witnessed a few good penalty shootouts at the FIFA World Cup in Russia, but The Winning Shootout is kicking off right now at Wink Bingo, carrying up to 1,550 Wink Rewards! That's right, start your play with wins, and enter the biggest football competition in the industry to earn fantastic double deals, including spins, combos, vouchers and more! Further T&Cs apply, read more below:
Players can join from June 18th by using the promo code, FOOTBALL and win a 100% bingo bonus including 1,550 Wink Rewards until July 15th. Of course, a deposit of £10 is required to participate and only registered players from the UK who maintain an account can enter. To win a prize, members must take 2 penalty kicks, collect rewards and spend them in Wink's Shop on bonuses, extra rounds, combos and gift cards. Note: for playing on mobile or tablet, players must pick the trophy icon in the "My Wink" section of the account. Otherwise, a visit to the "Earned It" tab in the "My Wink" section is necessary.
Vouchers can be used to purchase products on third-party websites and vendors are listed in the Wink Bingo Shop. However, if you are a new member and crave for yet another shopping spree, deposit and wager £10 to earn a 300% boost plus additional funds to spend in Wink's Shop. The more you play, the more rewards will be accumulated and you will increase the opportunities for earning more prizes.
Finally, by navigating to the ongoing promotions at the site, you will uncover infinite new ways to turn your play into fun, so check out the daily challenges to earn extra tickets, win a share of 1,000,000 rewards every month or celebrate the end of the month with £3K in cash! Also, don't forget to play for a chance to win a jackpot, which is always on the rise! Best of luck...
By
Natalie Stephanopoulos