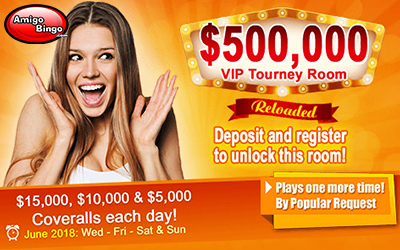 June is about to come to an end, and we don't say that lightly because a particularly cool bingo promotion is running till the end of this month on Amigo Bingo and we wouldn't want you to miss out on it!
Their loyal punters already know that their VIP Tourney Room is the place where legends are made – and after a lengthy pause, the room is back, reloaded and packing a punch worth $500K! You read right; a reloaded $500,000 VIP Tourney Room is now live on site, with increased coveralls and a total prize fund to die for. So, head out there now for more exclusive events and whopping jackpots…
But before you go, read on a bit more. Here are the prize pots that any player can take part in: one x$5000 guaranteed game, three x$150 guaranteed games and six x$100 guaranteed games. So, you might be thinking, 'isn't this for VIP players?' Well, that's true, but becoming a VIP at the site is as easy as registering with the site and making your first deposit of $25. So, not only do you automatically qualify for these games played each Wednesday, Friday, Saturday and Sunday at 10 PM, that deposit also covers the entry card for the $15,000 CA game, $10,000 CA and $5,000 CA games and $100-$500 multipart games also.
During these, a chat host will randomly choose one lucky player to be the week's VIP each Wednesday night, and that particular person will be given some gifts and bonuses for the week.
By
Andrej Vidovic