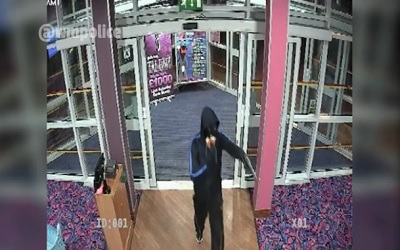 Staff at BJ's Bingo were terrified when a man wielding a gun entered the foyer and proceeded to rob the club.
The robbery happened on February 13th; however the police have only recently made the CCTV footage public.
Luckily no one was hurt in the process and the thug didn't get much cash.
According to the BirminghammMail.com, the robber is described as approximately 5ft 5ins tall donning a navy Nike top with purple lettering and dark tracksuit bottoms. He was also said to have had a JD sports carrier bag.
Police have been working to follow up on leads but they have yet to identify the robber. In releasing the CCTV video of the robbery, they are hoping someone will be able to provide some information.
A West Midlands Police spokesperson said, "We are determined to rid our communities of the threat posed by firearms − real or replica − and it is vital we catch the person responsible for this robbery."
If anyone has information regarding the robbery they are urged to contact the West Midlands Police​ or Crimestoppers.
By
Glo Wood