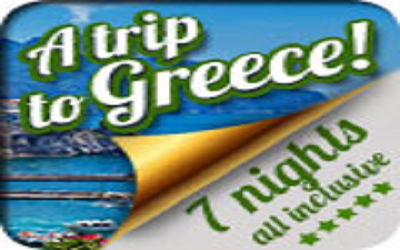 A holiday is just what the doctor ordered for a special getaway especially when it is a beautiful location on the gorgeous island of Greece. What makes this trip even more exciting is it is free, yes FREE!

You and a guess will stay at the magnificent Porto Carras Grand resort featuring a spa, golf club, casino and a marina that will envelope you in warm sunshine and sun kissed beaches.

You won't be lost for something to do while there that's for sure for this insane trip of a lifetime for one very lucky player. The location of Porto Carras is right next to the 2nd largest city in Greece. The panoramic views are breathtaking as you are swept away by the majestic slopes of Mount Meliton as well as white beaches and fantastic coves. This is an unforgettable trip of a lifetime that won't disappoint tourists.

To participate Charming wants to make it as simple as possible for you to get a chance win this prize. As a result there is no overly complicated terms and conditions that leave you scratching your head and saying "huh"!

All you have to do is do what you like; play bingo! Yep it really is as easy as that. For every £10 that is spent on bingo, you will automatically earn a prize draw entry. That means the more you play the more entries you could accumulate and the greater chance you have to win.

The Greece holiday package includes a 7-night all-inclusive stay at this resort that covers all your transportation costs that are taken care of for you. complimentary roundtrip airfare plus connecting costs to get you to and from your hotel. You just focus on what bikini to wear at the beach and what tropical cocktail you want from paradise!

There we have it folks, all you need to do is enjoy your favorite pass time and you could be lounging in a 5* hotel that you could only dream of.

The draw will take place December 31 2016 and winner will be announced Jan 10-2017.
By
Ava Jackuard