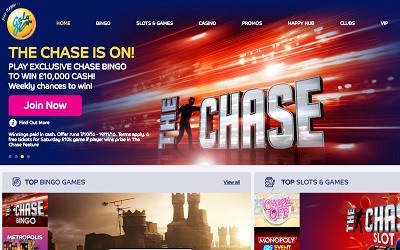 When it comes to playing happy, the chase is on at Gala Bingo. You've got a chance to win a share of £60,000 until 7th November, which means six weeks of £10K in prizes when you play the new and exclusive Chase slot.
The promotion kicked off on 7th October so there will be a total of 6 qualifying periods over the next six weeks. During the week you'll have a few different ways to draw entries.
Opt into the promotion every week and earn an entry for answering Chase themed questions.
Spend £10 playing The Chase slot, The Chase scratchcard, and The Chase Fun Drops.
You'll earn an entry into the draw for every £10 spent on the qualifying games. Stay tuned because they'll soon follow up with the launch of the Chase scratchcard and Chase Fun Drops games.
Qualifying weeks:
Week 1 - Friday 7th – Sunday 16th October
Draw date: Monday 17th October
Week 2 - Monday 17th – Sunday 23rd October
Draw date: Monday 24th October
Week 3 - Monday 24th – Sunday 30th October
Draw date: Monday 31st October
Week 4 - Monday 31st October – Sunday 6th November
Draw date: Monday 7th November
Week 5 – Monday 7th – Sunday 13th November
Draw date: Monday 14th November
Week 6 - Monday 14th – Sunday 20th November
Draw date: Monday 21st November
By
Glo Wood