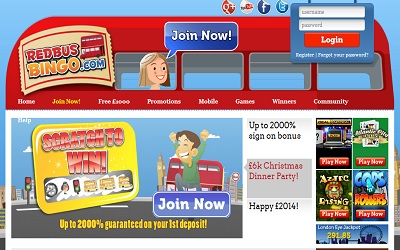 The Joy of Bingo Network is made up of some of the best online bingo brands on the market including 888laides, Posh Bingo, Big Brother Bingo, Wink Bingo, Tasty Bingo, Bingo Street and Red Bus Bingo. It was this week that I decided to pay Red Bus Bingo. I played there a few times in the past and the promos and linked bingo games are tied in with all the other sites within the network.
I took a look at the weekly winners and the wall of fame. Looking as all those bingo wins made me anticipate playing that much more. There are so many things to do at Red Bus Bingo. I know that sounds a bit odd but it's true. In addition to the many games there are fun little surveys plus news and articles to read. If you're bored there then nothing will entertain you.
There were loads of festive promotions including a £2,000 Christmas Turkey game, £1,000 Xmas Pudding game and more for creating the £6k Christmas Dinner Party. There were even all ready to ring in 2014 with a £2,014 prize game.
Unfortunately I wasn't a new player but if you are, you are eligible for a pretty great welcome bonus. When you register there is a scratch and win card with up to £2,000 up for grabs. Now that's what I call a bonus!
I could no longer take the anticipation and got in on a 90-ball bingo game. I started off slow and did not buy the maximum number of cards as not to spend my money too quickly. I played a few games and got close but not close enough. There's always that one game that has you on the edge of your seat and I almost fell off of mine.
There were a series of jackpots throughout the rooms but I had my eye on the main prize. The likelihood of winning one of the progressive was slim and the prize was good at just over £100 in the 90-ball room I was in. The one line prize came and went so quickly I didn't even know what hit me. I was absolutely nowhere for the line and started off horribly for the double line but suddenly things picked up and I was just a couple of number away from the double line and set up quite nicely for the house. Just as I got excited someone called for the line. So for the house, I needed 27, 38 and 54. Straight away 27 and 38 were called and I was screaming for 54. I could barely contain my excitement when I saw that I had read the prize wrong and there was nearly £200 up for grabs. They called 53 and 55 but 54 never came out and my other cards were no good.
Needless to say that was my last game. I just couldn't go through that again so I waved goodbye as the red bus drove away.