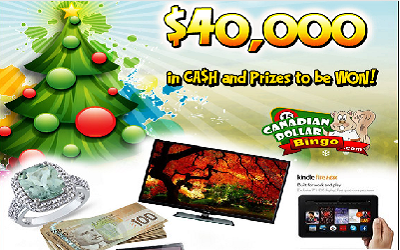 Looking for the best Bingo Christmas promotions this holiday season can be exhausting. Why? There are so many fantastic offers up for grabs that's why!
Considering it is Christmas time what not a better online Bingo site to check than Bingo Angels. After all aren't their angels among us especially during Christmas?
Bingo Angels didn't let us down and it seems the angelic ones were busier drumming up an exclusive than any little drummer boy could produce.
It's the $40,000 12 Days of Christmas extravaganza and folks we aren't talking about a partridge in a pear tree or 6 geese a laying either.
In the spirit of gift giving there are loads of presents up for grabs. It has already started on December 20th but no worries there is still plenty of time to snare of the awesome prizes.
Each day through 31st December there is a special promotion. There are Bingo Jackpots between $100 and $200 every night between 6pm and 11:59pm. Card cost for these special games vary from 25c - $1.
That's not all because each day one lucky player will get to choose a gift from the Magic Christmas tree filled with Cash, Electronics, Jewelry and Mystery BBs.
Each day there is a prize waiting to be won including:
· Dec 20th – Three Times the Riches Slot Tournament and 9 CT blue topaz & sapphire earrings.
· Dec 21 – A random $100 cash in the 12 Days of Christmas pattern winners.
· Dec 22- Trolling for Treasure Slot Tournament including a $50 Amazon Voucher
· Dec 23 – Top Bingo pattern winner in total rooms receives a Acer Chromebook
· Dec 24 – Random previous depositor win 50 Bingo bucks.
· Dec 25 – Winner Takes All Parlay Slots – bingo totals with a 50" HDTV Smart TV.
· Dec 26 - Get Cracking Slot Tournament with a Akoya cultured 17 inch necklace.
· Dec 27 – Random 12 Days of Christmas pattern winners for $50 cash.
· Dec 28 – Three Times the Riches Slot Tournament with a blue sapphire silver bracelet.
· Dec 29 – Trolling for Treasures Slot Tournament and a 6 CT green amethyst & white sapphire ring.
· Dec 30 – Random previous depositors for 50 Bing bucks.
· Dec 31 – Top Bingo patter winner receives a Kindle Fire HDX.
It's the 12 Days of Christmas you won't want to miss. Join today and get a Free $20 No Deposit Bonus. That's not all because there is staggering 1,000% Bonus spread across your first three deposits.