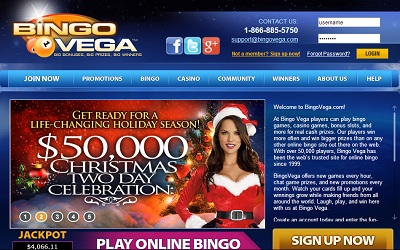 I think the first online bingo site I ever played at was a Parlay Entertainment site. I suppose that's why I hold this software so dear. Yes, there are tons of software that offer much more exciting themes in terms of bingo rooms and slots featuring many more bells and whistles but I never forgot my first and remained loyal to it all these years.

This week took me to Bingo Vega. They offer a nice no deposit bonus if you're a new player so they are definitely worth checking out. I've been going crazy with all the amazing Christmas promotions available this month and Bingo Vega has some great offers including the $50,000 Christmas Two Day Celebration. There will be $25K up for grabs over the course of two days in the Christmas Eve Room. Bingo Vegas describes this kind of cash as life changing and I got to thinking about what a nice Christmas $25,000 would make it. It's this time of year when most of ten to think less about ourselves and more about others. I would take my entire family on an amazing trip to somewhere warm like Mexico. We could lounge on the beach, sip tropical drinks and welcome in the new year. Ah the possibilities!

I got started playing bingo and bought the max cards on several games. They were all 75-ball bingo games and featured a variety of patterns including a few holiday ones sprinkled in. I had hoped that I could pull off a win but I wasn't that lucky. At least not today. What to do?

I have several Parlay slot games that I absolutely love to play and the only trouble I had was deciding which to play. I bounced between several before settling on Rainforest Riches. The colored frogs are the big payouts and multi frogs pay 10,000 coins on the 3rd payline. In all the times I've played Rainforest Riches, I've never come slightly close to hitting three multicolored frogs. I think the best I ever did was three blue frogs on the second payline for 300 credits.

This time, I played the max bet on the $0.50, three-line version. It was bars galore. I've never seen so many bars. Not a single frog was on the horizon. I did manage to increase my balance by $20 at one point but then lost it as quickly as it came.

I definitely hadn't won enough to jet off to Mexico but I did get to spend some time in a rainforest.