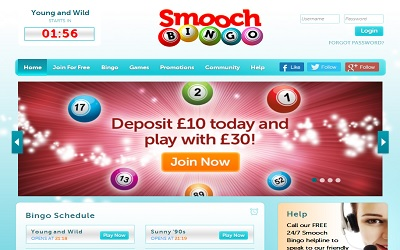 I love the concept of Smooch Bingo. They say they are the place for bingo players to get lucky. There's even a singles bingo room. I never considered meeting anyone where I play bingo but then again I suppose we'd have something in common. Call me old fashioned but the thought of an online love makes me nervous. I start thinking about him describing himself in a certain way and in reality he's probably the opposite. Then we meet and he wouldn't be what I expected or even worse, he could be dangerous. We've got to be cautious out here in cyber space but there's nothing wrong with a little Smooch Bingo!

I took a quick glance at the promotions page and skipped right over the Singles room. They've got BOGOF specials every day, free bingo and cashback specials. If you are a fan of slot games then you may enjoy taking part in the Sweetie Land Tournament. According to Bingo Smooch here's how it works:

"The Instant Tourney is here! Try your luck with this heart pumping, adrenaline rushing slots tournament. Become a champion when you spin to win. The good news doesn't stop here, because you can try for free! Play Sweetie Land and climb the ranks to the cash prizes.

"How it Works?

"There are 3 Sweetie Land tourneys to play each day, which means you have multiple chances to win big! The first tourney runs from 11:30am - 3:30pm, followed by the second at 4:00pm 8:00pm and the final big game begins at 8:30pm - 12:30am. You can join at any time and the first round is ALWAYS FREE! Come play and win jackpots of up to £300!

"After you've played your first FREE round you can buy up to 10 more rounds, to increase your score and climb higher up the leaderboard!

"During the tournament you are betting tokens, not cash! Your score and rank updates after each spin, and are always visible, so you can keep track of your ranking. At the end of each tourney, the top 3 winners walk away with real cash prizes! Please note, only winners from the final leaderboard will be credited."

As for me, I was interested and hitting the bingo rooms. I got in on a 75-ball bingo game. I typically go with 90-ball but I was in the mood for a change. The pattern was a Coverall and I bought the maximum number of tickets allowed. I was miles away from a win and the more games I played the more I thought I just might have better luck with online dating.