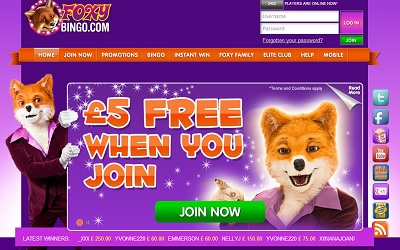 I never been so busy that I haven't had time for bingo. I was recently talking to one of my friends who shares my passion for the game and I asked her if she had any wins recently.
She tells me how busy she's been and hasn't had time to play.
All I could do was look at her in horror because I've never heard of such a thing. I've always got time for a quick game. I headed to Foxy Bingo for a few games all the while wondering how she could miss out on one of life's great pleasures.

I first hit the promotions page to see what was coming up. My eye was immediately drawn to the £10,000 Sugar Daddy jackpot game. Foxy says:

"I'm ending April with a bang by giving away another £10,000!

For those with a sweet tooth you can make the most of my fantastic Sugar Daddy Jackpot

Prize breakdown:

Full House: £5,000

2 Lines: £3,000

1 Line: £1,000

1TG: £500

2TG: £500

There are plenty of chances to win

The game gets underway at 9:30pm on Monday 28th April and you can get your paws on some cards right now for just 99p."

Foxy has got to be the smoothest bingo mascot around. It sounds so wrong to say that he's sexy but he sure is a fox!

Anyway I got in a 90-ball bingo game and the prize was pretty good. I was playing on Easter Sunday and the rooms were packed with players. I guess we were all hoping for a little Easter goodness.

I bought the max number of cards and had a minute or so to spare before the game began. I couldn't help myself and starting spinning on some slots. I had to laugh because I got so caught up in playing a slot game that I missed the entire bingo game. I hadn't won though so I suppose I spared myself a lot of stress. I probably would have been screaming and getting all worked up.

As far as my slot play was concerned I was doing quite well which is why I missed out on my bingo game. I was playing the jackpot games because the jackpots were over £27,000. Oh the things I would do with a win like that.

I didn't hit the jackpot on Fluffy Favourites but I boosted my bankroll by £175. Now that's a pretty sweet Easter treat!