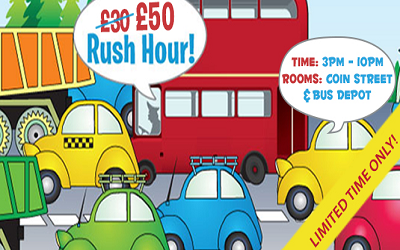 Mention the word "rush hour" and it can send motorists in a tail spin. Congestion at peak hours of travel are notorious throughout the world and is worse today than ever.

Why has it gotten so out of control? We can blame it on a couple of factors starting with population growth. The population has exploded across the globe with an estimated 7 billion people estimated in 2013.

Another contributing influence is the number of vehicles on the road. What was once considered walking a mode of transportation is now replaced with the automobile. 50 years ago it was typically one car per household, today fathers, mothers and teens have their own car within a single family home.

Keeping your cool during traffic jams, over crowed public transportation and mobs of people on the streets can sometimes wreak havoc with your patients. Road rage has become a serious problem as jangled nerves to get to your destination takes twice as long and roadways become a parking lot.

Combat the rush hour madness with a distraction guaranteed to calm your patience by playing Bingo. Red Bus Bingo knows all too well the complications of clogged streets and jangle frustration of commuting.

The Rush Hour Promotion at Red Bus Bingo is just what you need during the height of overcrowded cities. Whether you play in traffic that has come to a complete halt for an extended period of time, take public transportation or opt to wait until it's over, Red Bus Bingo has the cure all!

The new and improved Rush Hour games have increased from £ 30 to £50 making it that much more enticing. Win up to £350 daily every hour from 3pm – 10pm.

In the Coin Street room play 90 ball bingo at 3pm, 5pm, 7pm & 9pm. Card cost 5p each with Jackpot prizes split:

· Full House - £50

· 2 lines - £2

· 1 line - £1

The Bus Depot room features 75 ball Bingo at 4pm, 8pm, & 10pm. Cards for this game can be purchased for 5p each. Be the first player to claim a Bingo on the Clock pattern to win £50.

Minimum cards purchases are between 1 -96 (free games min 6 – max 6). In the event there is more than one winner the cash prize will be split accordingly. Prize will be awarded to the winners account instantly after the game has been won.