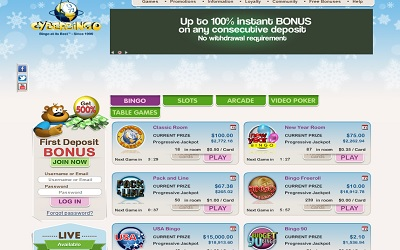 My inbox is flooded with offers from Cyber Bingo. I always love a bingo site that offers plenty of promotions. In fact, I love a bingo site that updates their promotions on a regular basis since there are some that don't. There's nothing worse than looking at a promotions page and seeing offers that are six months old.

Anyway, as soon as I logged in to Cyberbingo a promo popped up and it looked like a good one. It was actually a bingo tournament that was running all month long. Here's the offer.

"Stargazers Bingo Tourney

"It's written in the stars that this month, you could be a winner in our Stargazers Bingo Tourney. It does not matter if your star sign is Aries, Taurus or Leo, everyone is in with a chance to share in over $2,500 of real cash prizes just by playing our Stargazer Bingo Tourney.

"Our Stargazer Bingo Tourney takes place in the New Year Bingo Room from 12:01am ET on January 6th until 11:59pm ET January 26th.

"Look to the stars this month and see if you will be the winner of our Stargazer Bingo Tourney."

I was just in time to play a few games in the New Year Bingo room. The idea was to bingo on the special pattern that played once every hour. There were several patterns, each represented a different sign of the zodiac. It doesn't matter which sign you are. All you have to do is collect those patterns to win a share of $2,500 in prizes.

I made it just in time for a special pattern. We were playing for the Leo pattern. There were quite a few people in the room taking part in the game. I had a feeling I wouldn't win since there were so many roomies and I had just discovered the promo. Anyway, the Leo pattern kind of looks like an upside down "U" with wings if that makes sense. It didn't seem like it would take too long but it took longer than I expected for someone to bingo.

I got down to 5tg pretty quickly then it just stopped. I started to get worried and all of a sudden my numbers starting flying out. Someone had to be calling any minute and I was down to 2tg and 1tg before I knew it. I'm happy to say that I collected my first zodiac pattern. What are the odds?

I'll be back to stargaze at Cyber Bingo and try to win some of that cash!