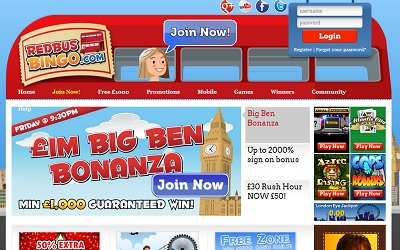 I found that the red bus was coming back around to pick me up and take me to the Joy of Bingo Network's Red Bus Bingo. I had a close call some weeks back in one of the bingo rooms there and I took off in a hurry but it was time to go back and try my luck again. Hopefully I could redeem myself this time.

Again, if you're a new player the deposit bonus is so worth it. All you have to do is register and you will be given a scratch and win card with up to £2,000.

It was a Monday so I was on target for the 5p game. Every Monday RedBus Bingo has £150 Monday Mania. The game plays at 8pm and there's £150 up for grabs and 5 chances to win. There were quite a few players in the room so I wasn't surprised that I didn't win.

Now it was time to head to another 90-ball bingo room and try to do better than I did on my last visit. This time I went for it and played every game with the maximum number of cards. I was in it to win it!

I found myself miles away from a win. There were too many roomies and it wasn't looking good for me. When you have a lot of players in the room it makes it even harder to win.

One game in particular that I played offered a prize around £200 or so. Somehow I managed to remain optimistic the whole time. The numbers for the line were coming out and believe it or not I won it! It had to be the positive state of mind that changed the tone of my visit.

It was on to two line and I was set up nicely but another player swooped in and won it. I had a couple of cards that were looking good for the house. A few numbers were called and I found myself down to 68 and 83 on one of my cards. Out came 83 and I was chanting 68! I could not believe my eyes when 68 was called and I saw that I had won the house!

I was determined to win and I wondered how my positivity affected my bingo session. Could it be possible that positive energy can bring a positive outcome? This time I was a winner so I passed on the bus ride and skipped all the way home!