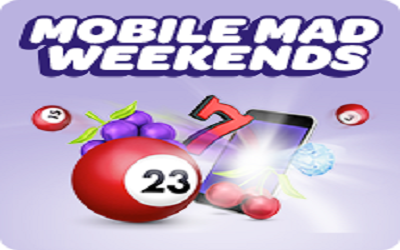 March is here folks and while the days are getting longer, the sun is shining brighter and spring is about to be sprung, it is time for some weekend fun.

Sun Bingo is the destination that promises to follow you around wherever you go. Not like a predator, stalker or a friend your trying to lose, this is the kind of sticking around that is all about exciting entertainment.

All you need is "me, myself and I" and of course a mobile device to get things kicked off. From March 5th (yes, it is already underway) until March 27th players can participate in the Mobile Mad Weekends.

Here is the scoop on this promotional offer guys and gals:

Earn up to 10% Cash-back by being more mobile this month. To participate all you need to do is simply opt in and play a minimum of £30 on Slots on a Smartphone or Tablet on weekends between Saturday March 5 and Sunday March 27 to receive Cashback on your losses.

To qualify for this special exclusive players must be a resident of the UK or Ireland. To participate go to the Promotions page and select "Take Part".

To get earned Cashback on all 4 weekends for this promotion you would need to opt in on the first weekend (Saturday March 5 – Sunday March 6) before 23:59 on the Sunday. But if you miss it you can still opt in before midnight on any other weekend within the promotional period. Then from that weekend on that you opted in you would only be eligible for Cashback for the current and consecutive weekends thereafter.

Also you must wager a minimum total of £30 on any Slots on your Mobile device during any Promotional Period to be eligible for Cashback on that weekend.

If the total amount wagered over one of the weekends in March on the specified games is more than your winnings on those games during that period, Sun Bingo will credit cash to the value of 10% of your losses to your member account.
By
Ava Jackuard