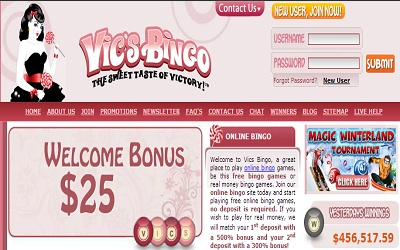 If you're a fan of retro themes, Vic's Bingo is a great bingo site to check out. They accept players from the USA and they feature Parlay Entertainment software. I'm a huge fan of the slot games from Parlay. Three Times the Riches, Trolling for Treasure, Karat Crazy and Get Cracking are a few of my favorites.
The mascot is a retro looking girl dressed in black and holding a lollipop. Actually, she has sort of a gothic look and she has a hairdo that you'd only expect to see in the 1960's. The bingo rooms have a variety of themes and there's always decent promotions going on. If you're already a registered member, then you're receiving the weekly newsletter from Vic's.
I've never been a fan of chat games until I started playing them at Vic's. I had a good experience and they vary from week to week along with a selection of chat games that take place every week.
I entered a 75-ball bingo room in the hopes of having some good luck. I've played quite a few games of bingo lately and I've been unsuccessful. A lot of 1tg's and 2tg's and my worst was 7tg in a coverall game. This too was a coverall game and I purchased the maximum amount of tickets. I said my hello's to my regular bingo buddies in chat and waited for the game to begin. I passed the time by playing the slots and ended up losing $20 in a minute and a half.
The bingo game began and I started out pretty badly. My cards were filling up slowly and I had several blanks. Then, out of nowhere, it seemed like I had every number called on one card. The game was flying by and I had one really good card. It got to that critical point where there had been 50 numbers called and someone was going to call any second. I needed 2 numbers but a player with a risqué name beat me to it.
I decided to play again but this time it was a pattern game. There was decent money up for grabs and once again, I bought the max tickets. This time I started out pretty well and this time it kept going. I bingo's in record time and finally, finally broke my stroke of bad luck!
I was victorious at Vic's Bingo! I definitely know where I'll be spending a bit more time playing bingo.