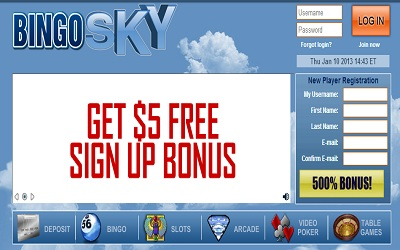 A fantastic option for US players who love bingo is Bingo Sky. We all know how slim the pickings are for an online bingo site that accepts US players and a good one at that. Bingo Sky is one of the first sites I've ever played bingo on. If you like Parlay Entertainment software, this is a great place to experience it firsthand.
With all the bingo sites we belong to how do we keep track? I try to sign up with the same user name and password for most sites unless I'm unable to. Somewhere along the way I created a document listing all the sites I registered for and the user names. It would be nice if I could find it but of course it's nowhere to be found.
I went to live chat to find out if I had ever registered there before. I know I have played at their sister sites and some only allow one account per network. I've played a time or two at Bingo Fest. The live chat was pleasant and helped me out pretty quickly. I was dreading talking to them but in fact I was pleasantly surprised.
Bingo Sky offers a series of deposit bonuses for players. This is great because not only to you receive extra cash on your first deposit but you'll get a boost for your second, third and a reload bonus on your remaining consecutive deposits.
I played in the Tourney Room on Friday. There's $1,000 up for grabs each week. I also played several games in the Bingo Free Roll Room. The cards are cheap and the prizes are good. There was a $75 minimum coverall game going on and I wanted it all to myself. My mother taught me to share but it doesn't mean I have to like it.
My numbers were flying out and my card was filling up. This 75 ball game was mine! About half way through, they stopped. I was getting all the numbers in the wrong places. Someone was going to call any minute and it was tense. The prize was won in a three way split.
Disappointed, I went over to the slots and played a bit of Three Times the Riches. I prefer the 5-line versions of Parlay's classic slots. I find it almost impossible to win on the single lines. I won back a bit of my money but most importantly it was another great day of bingo!