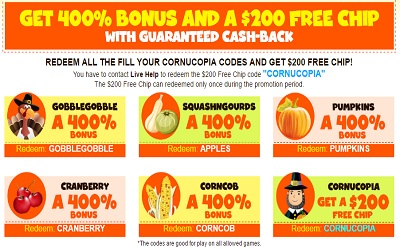 This month 123Bingo wants to make sure your cornucopia is bursting with bonuses. Claim a series of deposit bonus coupons to become eligible for a $200 free chip!

"Claim those super bonuses with no rules, enter our raffles and win gifts and cash rewards, join your buddies for the exciting chat games! Start filling your Cornucopia with amazing Bonuses with guaranteed cash-back and ensure your entry for Black Friday Freebies!"

Claim a 400% Bonus on each deposit made using the following coupon codes:


Once you've redeemed all 6 codes, you will receive $200 free to play your favorite games.

There's much more to look forward to this festive season with special games including Bingo Harvest, $1,000 Turkey Dinner Jackpot, Thanksgiving on the Farm and even Black Friday Freebies. While everyone is out shopping all the deals, you'll be busy scoring a few deals of your own with access to free $50 games and special chat games.

Have a fruitful holiday and good luck in the bingo rooms.
By
Glo Wood