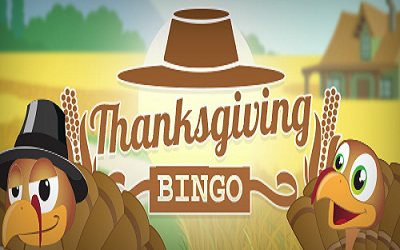 This Thursday, 24th of November is Thanksgiving Day for our friends across the pond in America. It is a feast that dates all the way back to 1621 when the Pilgrims first arrived. The dinner table is quite elaborate with a whole turkey, stuffing, mashed potatoes, cranberry sauce and more. The desserts aren't left out either with pumpkin pie and a dollop of whip cream, pecan pie and apple pie.

Downtown Bingo wants to share in the festive holiday by hosting a very special Thanksgiving event.

They are serving up a feast of extra turkey bingo fun with a night full of exciting Thanksgiving bingo games in the Autumn Bingo room. These fantastic games will play from 6:00PM EST until 11:00PM EST at the Top of the Hour with awesome cash prizes of up to $500 up for grabs.

It all starts with a guaranteed cash prize of $150 and after the 25th ball is called it will continue to grow with every ball called until it is won or reaches an impressive $500 in cash. The cost of each card is $1.50 a card with six incredible games to play and a perfect way to spend Thanksgiving 2016.

Pre-order your cards today for this event so you don't miss out for your chance to win a share of up to $3,000 in prizes.

While you are at it fix yourself a nice plate fit for a king and don't forget to top it off with a dessert and hot cup of tea!
By
Ava Jackuard