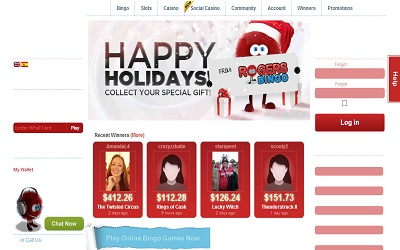 Do online bingo mascots draw you to the site to play? It seems fairly unanimous that the design of an online bingo website effects our decisions on whether or not to play there and the mascot is also part of the design. For example, Jackpotoy Bingo lovers all know and love the Queen of Bingo, Ms. Barbara Windsor. She is a part of the brand. The same goes for many other gaming sites out there. One site that I discovered based on the mascot alone is Rogers Bingo. The little red furry mascot looks just like a chuzzle. You know chuzzles, right? There's a slot game based on these cute fur balls.
I was settling down from the Christmas holiday and preparing to do it all over again with New Year's celebrations. I've heard some mixed reviews from players but overall, I can't say that I've had any problems with Rogers Bingo. As part of my relaxation regimen, I curled up with my laptop and was prepared to spend an afternoon with Roger.
I noticed that Rogers Bingo had a new more simplistic look than it did before. Although I can appreciate the lack of clutter, the site appeared a bit bare. The header looked as if a picture hadn't loaded properly. I expected to see a bright header but this had been replaced by plain white tabs.
They are always giving away an amazing holiday so I stopped by the promotions page to see where they were sending a lucky player to. The prize package included a trip to beautiful Paris. I have always wanted to see the Louvre and have never had the opportunity. Some may go to Paris for the wine, food and culture but I just want to go to the museum.
Anyway, I got into a 90-ball bingo room where the cards were on sale for $0.08 each and the prize was approaching $400. I noticed a freeroll was coming up that had a prize pool of $100 but I had about 30 minutes to kill. The prizes were really good in the room I was in but I couldn't even get down to 3tg. Players were calling really fast and before I knew it, it was time to get in on the freeroll.
Again, I wish I had something to brag about but I had no luck there. It seems like a pattern for me these days but as soon as I switched over to the slots my luck improved. I had a few nice hits on Thunderstruck II and got out of there breaking even.