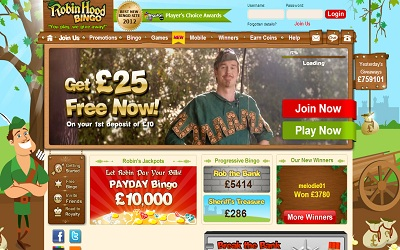 Since it launched, Robin Hood Bingo has become one of my favorite online bingo sites.
It's like my online home and I get rewarded just for showing up. I stumbled upon it after reading some gambling related news. The article raved about the rewards program and the Dragonfish software. Once you're a member and you deposit, you begin receiving free coins instantly and continue to receive them just for entering the bingo lobby every day! The coins may be used toward the purchase of bingo cards and they've come in handy when my bankroll is down low. The extra coins have bought me just one more ticket. Maybe I'm a little biased because I often win there. My luck in the bingo rooms is impeccable.
The first time I played there I took advantage of the Welcome Bonus. I made a small deposit of £10 and received a £25 deposit bonus. I was hooked ever since. This time I got my free coins and headed over to the slots. Every time I go there I find so many promotions and things to check out. I never know where to start.
I had reached 1,000 coins but I didn't want to redeem them yet. I headed over to a 90 ball bingo room and played in a game where the tickets were 3 pence each. I had lost all I was going to lose playing slots. My money always lasts me much longer when I stick to bingo. Anyway, I bought the max of 96 cards and continued on to play in game after game. I actually lost count of many games I played after a while.
One awesome feature in the bingo rooms is that when you finish up with one game, you are automatically transported to the next game with the click of a button. Once you select the type of bingo you want to play, 75-ball, 90-ball etc., you will only be placed in those games. I was getting down to my last few quid and I purchased tickets for my final game. I got down to 3tg really fast. All of my numbers were called out like soldiers. I waited and finally all my bingo sessions paid off. I finally had a win. It was a small win but a win nonetheless.
I was happy with whatever I could get. I did consider redeeming my coins but I was able to hold out. I'll be putting them to good use eventually!