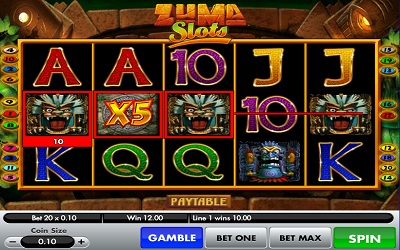 A handy little trick that I use is when playing online bingo slots is to play in fun mode. Many of the bingo software is available to play for fun or even with bingo bucks. Select software that you enjoy and that offer free play. Mecca Bingo offers free play as does Jackpotjoy, Sun Bingo and many more. I tend to go for sites powered by Gamesys software. The slot games are awesome and I like to get a feel for how a slot pays out before I start depositing.

At Jackpotjoy Bingo, I've done pretty well trying out the demos of new slots before I play for real. Zuma is one of those slots that is hit or miss. I play it in free play first to see if it's paying that day. If not, I try something else. Now, keep in mind that this absolutely does not guarantee that I'll win but many bingo players follow this strategy.

I first learned about Zuma while playing bingo and chatting. So many players were going on about frogs. I asked what they were all buzzing about and I learned about Zuma and played it for the first time. The frogs come in during the bonus. Actually, three frog symbols on the reels launch the bonus game. The bonus is really hard to get and I it's no wonder because it pays out really well.

Zuma has a jungle theme with little creatures included, almost like little monsters. Anyway, when a frog lands on the reels you hear "ZUMA" so when you hear "ZUMA" "ZUMA" "ZUMA" it gets very exciting!

I played Zuma in fun mode and saw that the payouts were decent. When I played for real, I got the bonus right away. I hate when that happens because sometimes when you trigger the bonus early on it's either a bad bonus or it's your last one of the whole session. I did well and the bonus ended making me £75 richer.

Now the trick was to decide whether I should stay or go. I had just started and I really love this slot. I stayed and learned my lesson. Always follow your instincts. I should've taken my winnings but instead I spent my bankroll down to 2p.

Although free play doesn't guarantee a win it definitely helps us decide if we like a slot or not. There have been quite a few slot games that I didn't like and I was very grateful for fun mode!