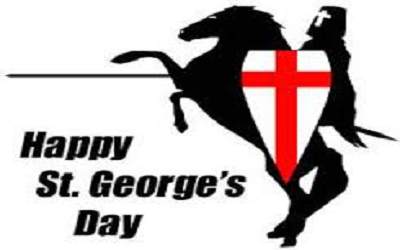 St George's Day is 23rd April and although it is not a National Holiday there is a lot of hype and voting going on in an effort to make this day an official one. After all if Ireland has their national holiday for St. Patrick's, Scotland celebrates St. Andrew's Day then it is only fitting that England should have St George's Day!

St George was a Christian born in A.D. 270 Cappadocia, now Eastern Turkey. After moving to Palestine with his mother he became a Roman solider. His rebellion against Emperor Diocletian who led Rome's persecution of Christians landed him in prison where he was tortured yet never losing his faith.

The outrage Emperor dragged St George through the city streets and had him beheaded. The Emperors wife was so touched by the true bravery and loyalty to his religion she became a Christian herself only to be executed for her faith.

Foxy Bingo embraces and honors this very special St George and is celebrating with a big promotion. It is the £12K St. George's Knight Giveaway. Players have a chance to scoop up this big guaranteed cash prize on Tuesday 23rd April at 8pm.

The cards into the 75 ball game cost 50p each, so make sure to purchase many for this one and only special event game. This promotion is open to all funded players. In the event there is more than one winner it will be split between the cards.

Established in 2005, Foxy Bingo is one the biggest sensations to hit the UK. If you are not already a member, join the Foxy community and get a £20 Free Welcome Bonus. There are loads of Guaranteed Jackpots including a whopping £35,000 up for grabs every single day. That is not all because every Friday there is an extra £5,000 up grabs.

Legend has it St George drew his sword and protected himself with the sign of the cross slaying the infamous Dragon of Libya and saved the princess. And Foxy Bingo is a legend in its time becoming one of the hottest UK online Bingo sites today!