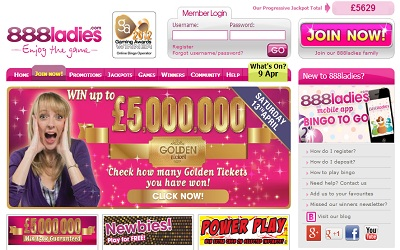 As gamblers, there is always a method to our madness. It doesn't matter if you play bingo or some other casino game, we've all got something that we do when we play. You don't have to be inside of a bingo club to put these strategies to good use because sometimes online bingo gives us more options.

When I'm playing online at 888ladies I have a selection of rooms available to me depending on what type of game I'd like to play and the price I'd like to pay per ticket. I can also get a good look at the prizes and the number of players in each room. The number of bingo roomies in any given room is key. If you're going to select a room with a huge number of players it can reduce your chances of winning. Fewer players equals better offs of winning but it definitely a fine balance. You don't want too many players or too few players. Prizes are boosted by ticket sales. Often times you'll see a bingo room with just a few players and the prize reflects this. You must choose wisely when selecting a bingo room because once you purchase your tickets you may not break even should you win.

I always struggle with how many tickets to buy. Yes, it only takes one card to win but how many should we buy? Do I buy the max or some other amount? There is a quick buy option at 888ladies and most other bingo sites and more often than not I will just buy the max. There's bound to be a winner somewhere in there, right? I look at my cards and can almost pick out the ones that will be good cards. The wider the range of numbers on the cards the better. Too many double numbers or some sort of pattern tends to do poorly when the game begins. Those are always the ones that finish with 7tg or some other horrible number. I've bought tickets where many of them have the same pattern of numbers. If one is bad then they all are. I will look for repetition when a particular numbers is hot that day. Some days it feels like certain numbers are on fire. For example, if I'm down to number 7 and it's been called or every game and has been bingo'd on then I have high hopes that it'll come out. Not always a sure fire plan but as a gambler, I'll hang on to anything!

When my bingo luck has run out, I will switch to Keno or slots. I spend some time playing those games and come back to the bingo later. Sometimes a break is all we need.