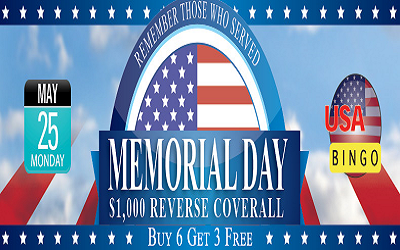 The US will honor those men and woman who have fought and died in the military on Monday May 25th. It is a recognized holiday where government offices, banks and certain businesses will be closed. It always falls on the last Monday in May and also coincides with kicking off the summer though it has not officially started. Pools open, schools let out, beaches open and backyard barbeques have smoking grills smelling of hot dogs, hamburgers and steaks.

To celebrate this great day Cyber Bingo are bringing you an night filled with awesome bingo fun with juicy cash prizes to be won every single game. This exclusive event starts at 6:00PM EDT in the USA Bingo room. It is here the Top of the Hour Memorial Day Reverse Coverall games for cash prizes of up to $1,000 will be played.

Every one of these fun Bingo games will have a cash prize that will start out at a guaranteed $100 and if not won by the 46th call, will then rise by $45.00 on every new ball called until it hits a big $1,000 in cash. These highly entertaining reverse Coverall games have a card cost of only $2.00 a card offering cash prizes that climb and climb until it reaches all the way up to $1,000.

Long after the flame goes out on the grill, condiments are put back in the fridge, it is still time to commemorate Memorial Day with reverse coverall games and all your favorite USA bingo games. Don't let this holiday fun slip you by and make sure to join Cyber Bingo this Memorial Day where tons of excitement and loads of cash are up for grabs.

That is not all because players can also enjoy even more great opportunities to win this Memorial Day with a fantastic Buy 6 Get 3 Free offer on all tickets to the exclusive Memorial Day holiday Reverse Coverall games. Players choose nine tickets and will only be charged for the bargain price of six. That will give players more free chances to win $1,000 in cash and celebrate all the way to the bank.

Join Cyber Bingo if you are not already a member and take full advantage of the great offers. As a new player get $25 Free No Deposit Bonus. Then on your first deposit a Bonus of 500%, second deposit 250% and third Bonus 250%.

By
Ava Jackuard