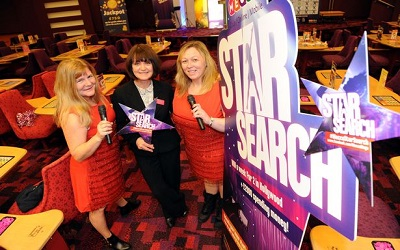 If you think you could be the next Paolo Nutini, you could win a trip to Hollywood courtesy of Mecca Bingo and its Star Search contest.
The staff at the Paisley Mecca Bingo club have hopes that the winner may be one of their bingo players.
Participants take part in live auditions and recording sessions at clubs across the country but there will be just one winner.
Marion Hamilton, general manager at the club told the Paisley Daily Express, "We are looking to find someone who has a great singing talent but hasn't been discovered yet.
"If we could find the next Paolo Nutini, that would be great."
All regional winners will face off in a national final held in June at Mecca Blackpool.
The winner and a guest will fly off to Los Angeles and stay at a Beverley Hills hotel but not without a bit of spending cash.
If you're shy about auditioning live at a bingo hall, you may enter online by submitting a video of yourself singing your heart out. You must be 18 or over to enter so see the Mecca Bingo website for more information.
Marion also said, "We will be staging four sessions where people can come into the club and we will record a video of their performance.
"This is a great option for people who aren't confident enough to enter online."
Mark Henderson, Mecca's area manager, said, "Star Search will be one of the biggest and best talent competitions to run across the UK this year and we want as many entries as possible because we believe there's a lot of hidden talent out there.
"The live auditions are great fun and are a good alternative for those who don't want to enter online.
"Entries are welcome from Mecca members and non-members who want to give it a go as part of a great night out at Mecca Paisley."
By
Glo Wood