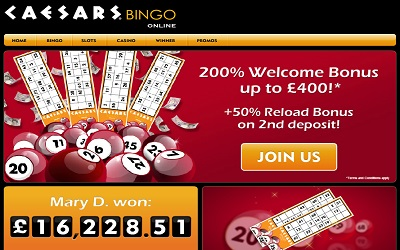 Caesars Casino is one of the most amazing casinos in Las Vegas so you can imagine the excitement when Caesars Bingo launched. I couldn't wait to try it out and ever since that day I've been hooked. Anyway, it had been a while since I've had a moment to myself and I had some free time finally.

If you enjoy Gamesys software as much as I do you're going to be right at home at Caesars Bingo. They do not accept players from the USA and even if you want to catch a glimpse of the site, you're redirected to the Caesars Casino Las Vegas website. As a new player, you are eligible or a Welcome Bonus of 200% up to £400 on your first deposit. Then, you're able to claim a 50% Reload Bonus on a future deposit. The wagering requirements are fair at 2x the bonus.

So, I went straight for a 90-ball bingo game. I started off with a bang waiting for one number for the line prize. On to the two line prize and I was doing well. My cards were filling up pretty quickly and although I didn't win the double line I was set up quite nicely for the house. I still can't get past the double number problem I've been plagued with. I get down to numbers like 11, 22, 33 etc. but they never come out for me. At least the tickets were cheap and I was able to play several games without really spending too much.

I save the big spending for the slots and I had decided it was time switch games. I play it at Sun bingo and I play it at Caesars, Barnyard Bonanza was calling my name. My luck couldn't be any worse than it was in the bingo rooms. I began with a £1 bet per spin to start. The theme is so much fun and it features a bonus game and a free spins bonus. I hit the bonus game a time or two but it was the free spins bonus that I wanted to get. I had several rounds of free spins but it was the last one that really boosted my balance. In total, I was up around £200!

I kept playing and visited just about every farm possible in the bonus game. I raised my bet several times and still left Caesars Bingo a winner!