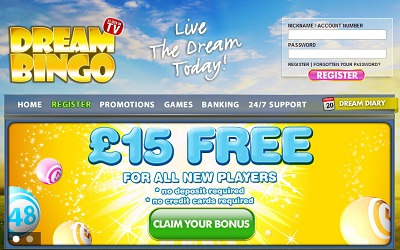 Dream Bingo is powered by Microgaming and they've got some of the best slot games around. Immortal Romance, Karate Pig, Thunderstruck and The Dark Knight have become some of my favorite slot games. With so many choices for online bingo it's hard to visit all the sites I love all the time. I sat down and looked through our list of online bingo sites and realized that I needed to take some time to play at Dream Bingo.

After I looked around for 15 minutes to find my log in information I realized that I should have just requested my info from them. It would have been much faster. Once I was in, I scanned the promotions to see if there was anything I could take advantage of. There are slot tournaments and even a bingo league. Bingo League

I had to wait for the weekend slot tourney but the bingo league looked promising. If I took first place on the League Table I could win a cash prize and league games run three times a day at 5:00pm, 9:00pm and midnight (BST). The idea was to start earning points which are awarded for every win and the top 10 players of the week get £25. Your weekly scores are added up and prizes are awarded based on the top monthly scores: £100 for 3rd place, £150 for 2nd and £250 for 1st.

I had some time to kill before the league game started so I headed for another 90-ball bingo room. I didn't want to use up my entire bankroll so I played in several games without purchasing the maximum number of bingo cards. It was one game in particular that really increased my blood pressure.

The total prize was decent and there weren't many players in the room. I thought I may have a good chance. At first I was doing horribly. I think every number called was dotted on separate cards. I didn't so much as have two daubs on one card within the first 10 calls. Of course someone bingo'd for the line. Going into the double line things were looking up and my cards were looking good. I was catching up fast as all the numbers I needed were being called. Another player bingo'd for two lines but I was set up quite nicely for the house. I needed just three numbers, 21, 34 and 88. Right off the bat 21 and 88 came out. I thought for sure I had it until I didn't. Someone else called and I was so annoyed!

It was a good thing I had plans to take part in the league bingo to take my mind off of that close game.