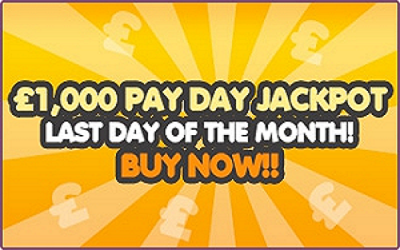 September is about to come to a close as the calendar fills up with X's across the month. Certain dates are marked for special occasions including birthdays, holidays, anniversaries and when those dreaded bills are due.
As for the Bingo community exclusive events, Jackpots, contests and big deposit bonus days are chocked full of treats for month full of rewarding promotions across the online bingo sites.
Before you flip that calendar over to October pencil in the last day of the month 30th September for the £1,000 Payday Jackpot at Bingo Clubhouse. In fact the last day of every month will offer this exclusive promotion.
Players will say goodbye to the month with a chance to win £1,000 in cash. Tickets to the game can be purchased in advance and it is up to you to be in it to win it!
That's not all that happens at the end of every month because there are more tasty treats in store to lucky players.
It also pays to become a Bingo Clubhouse member and get a Bingo Rewards card. Every month there will be a special Raffle with great prizes given away. To participate simply log into your account every day and click on the Prize Draws button located at the top of the menu.
Enter your Rewards membership number once every day throughout the month. The more days you enter the greater the chance of winning a fabulous prize. The best part is that it's Free to enter and is exclusive to Bingo Rewards card members only. If your number is drawn at the end of the month you will win the Monthly Rewards Prize Raffle.
It is easy to attain a membership, simply make your very first deposit and Bingo Clubhouse will send you a card absolutely Free. Your card will have your own personal number and offer benefits that include: daily member cash draws, monthly member prize draws, access to exclusives and much more. The first of every month there is a £100 Raffle give away to one lucky winner.
Join today and receive a Welcome Bonus on a £10 deposit and play with £30 for a 200% Bonus. Plus spin the Bingo Wheel for a Guaranteed prize that vary from £10 all the way up to £2,500.
Play all your favorite games including 90 Ball Bingo, Slots and Casino games offering Blackjack and Roulette.