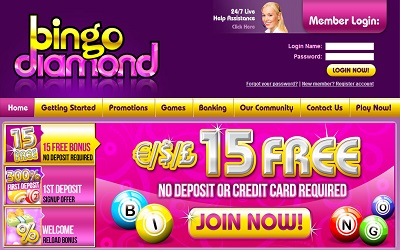 I love trying out a new online bingo site especially when there's free money involved. A no deposit bonus takes the risk out of trying a site you may be unfamiliar with. I took full advantage of the 15 free bingo bonus bucks at Bingo Diamond.
Bingo Diamond is powered by Microgaming and the online casinos don't offer no deposit bonuses very often. On the other hand, free spins are common but typically no deposit bonuses are hard to come by so I grabbed it for bingo.
The Welcome Package offers a series of deposit bonuses that are awarded is BBz. With all this talk of BBz, I decided to take a look at the terms and conditions. The first important thing to point out is that BBz may only be used to play bingo and they are not cashable. This means that you can't withdraw the bonus. They've also got a casino bonus that may only be used to play casino games and it's also noncashable.
I find this statement in the terms and conditions to be very confusing: "Bingo Bonus and Play-Through money (BBz) can never be withdrawn. Per our Bonus system as the Play-through money is used and the wagering requirements are met, a portion of these funds will become available for withdrawal."
One last thing regarding the rules, a player must have made a deposit within the last 7 days in order to be eligible to win and withdraw a bingo jackpot.
It was time to get started on the bingo so I entered a 90-ball room. The prize was low because I was playing with BBz and not able to fully access all the bingo rooms. I liked the bingo rooms and had a frustratingly great time playing. I love bingo but it can be frustrating at times.
I got down to a couple of numbers and I was screaming for them to be called. I was yelling out #41, #27 and #81. Come on! It was so exciting when two of them were called but then I was a dreaded 1tg player and stayed that way. #41 never came out.
I was surprised at how long my 15BBz lasted. I played game after game and won a few too. I knew that I was unable to withdraw any of it but it gave me a good idea of what Bingo Diamond was like and I love the games!