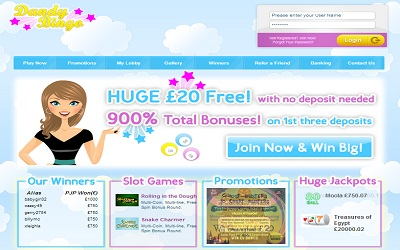 It's not often that I play at Cozy Gaming bingo sites and I'm not sure why because whenever I do I have luck. Maybe it's simply a coincidence or maybe it's something else but the slots and the bingo games are good to me. One thing is for sure, I was feeling dandy at Dandy Bingo this week!


If you've never played at Dandy Bingo then you're in luck because they've got a fabulous Welcome Package. It's not just one bonus its several bonuses all rolled up into one lovely package. First off, new players are eligible to receive 20 BBs free. All you've got to do is register and verify your account. Next, when you're ready to deposit your first three will be boosted by a total of 900% in deposit bonuses. Finally, the Reload offer is pretty cool. You'll have your choice between 400% in bonus funds or a 125% in cash reloads. So basically you're taken care of as long as you're a Dandy Bingo player.
Whew, okay now on to my experience this week. I started out with bingo. I entered a 90-ball bingo room with cards on sale for 10p each. I bought the max, noticed that the jackpot was up over £1,000 and got to thinking. In all the online bingo games I've played I have never ever won a bingo jackpot. IN fact, in all the land based bingo games I've played I haven't won one there either. The jackpots are usually won when you bingo within a certain number of calls and some are won when you bingo on certain numbers. I must say that winning a jackpot is on my bucket list!
So anyway, I played the first game and had no luck. I decided I was in more of a pattern bingo mood and jumped over the 75-ball room. The prizes were decent but huge like you often find on more high profile bingo sites like Mecca Bingo, Jackpotjoy or bet365 Bingo. I had no luck in the first game I played but then I had wins in the next two games! I had added £30 or so to my bankroll and headed for the slots.
The slots are usually where the trouble begins for me. I decided to play Dragon Fire and although it started out a bit rough, I ended up a winner. The payouts were really good and I had the smarts to quit before my lucky streak ended.
I was up about £150 and feeling dandy!