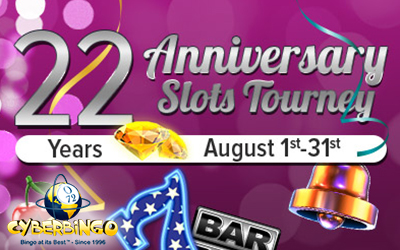 The month of August was full of scorching offers all over the network, but barely any of them exceeded the 22nd Anniversary Slots Tourney at Cyber Bingo. The operator is slowly bringing its exclusive raffle to an end, meaning that players can participate only until August 31st till 11:59 PM EDT.
Many lucky players have already spun their way to the top of the leaderboard, winning extraordinary cash amounts and universal bonuses. Don't miss the opportunity to play the platform's hottest video slots and join the celebrations – bigger prizes await the top 20 participants!
22 Action-Packed Releases:
Spending 22 years on the market is certainly for every praise, but selecting the right slots for the occasion is definitely a tougher job! If you navigate to the promotion's page, here is what you will find – Puppy Party, Samba Spins, Star Jewels, Jumbo Joker, Kawaii Kitty… just to mention a few good titles.
The list is comprised of 22 carefully picked games from software developer Saucify, Vista Gaming, Rival and other leading software manufacturers. Volatility levels are different for each game, but if you want more info before you start spinning, we suggest you open the title's details and see if it suits your taste. In any case, with $3,000 of prizes to be won, the raffle is a fantastic opportunity for everyone to increase their budget!
Before You Start…
Bear in mind that only the winnings within the time frame of the Tourney (Wednesday, August 1st at 12:01AM EDT until Friday, August 31st at 11:59PM EDT) will count towards triumphing!
Additionally, all prizes will be credited to the players' accounts automatically on September 1st, 2018 so make a quick deposit and enjoy it while it lasts! Good luck!
Comment: what an amazing way to earn some money, too bad it's ending today :(
By
Natalie Stephanopoulos