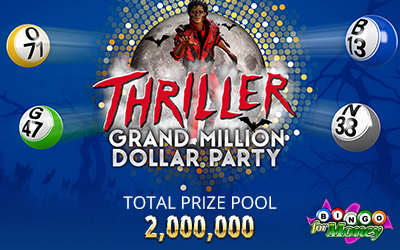 As soon as Michael Jackson's legendary album Thriller starts making headlines again (apparently, it's been knocked off from the no.1 position of the best-selling albums of all time), Money For Bingo goes and does the full MJ experience for us to close the book on August...
Let's See Your Bingo Moves:
...Which is why we would like to steer your attention to the date of August 29th when something big is taking place. The Thriller Grand Million Dollar Party it is called and it delivers on its promises - there really is millions of dollars up for grabs and they come spread across several games and events during the day.
In this great homage to one of the leading pop stars of the 1980s, the prize pool totals over $2 million and there's also a very special offer when it comes to purchasing entry cards: for every 20 you buy, you get extra 16 cards, free of charge!
Evening's Fun:
So, here's what you will enjoy as you try to walk out of much wealthier:
one hour of speed games with a fixed $5,500 prize on every 5th call.
pots reaching up to $200,000 in real money
two speedy coveralls per hour with $15,500 on the first 50 calls per hour
fixed prize of $5,500 on all calls every hour as you look for the fireworks pattern
Bingo For Money, whose gaming library is supplied by only the leading names in the iGaming industry – such as Microgaming, Pragmatic Play, BetSoft, NetEnt and others, has been around since 2002 and has its own standalone platform...
...Before you opt in for this irresistible promotion, we urge you to check out site's T&C's as that may be just about the most important recent decision you've made. And do have fun, let's end this August with a bang.
Comment: Fantastic! I will definitely have a go, this amount of money is not to be missed.
By
Andrej Vidovic