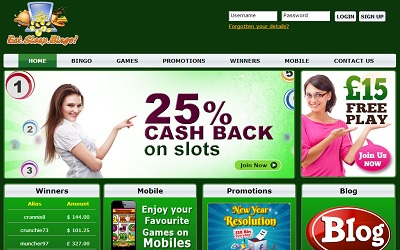 Many bingo players who truly love the game eat and sleep bingo so why not play at an online bingo site that suits us like Eat Sleep Bingo? This is an online bingo site powered by Cozy Gaming and part of the World Bingo Network (WBN).

One thing that all players should take note of is the no deposit bonuses. These are actually free trials that are non-cashable. This means that you can't withdraw any of the winnings derived from the free bonus.

First things first, before I logged in I had to scan the promos. You could play slots and win free cash or bbs, collect special patterns and win bbs or play in a variety of chat games. To be honest, when I play at a Cozy Gaming site I like to just go for the games and play with my own money.

If you've ever played at Landmark Bingo, Bobs Bingo or Ready Set Bingo you are familiar with the bingo rooms such as Big Ben, London Hall, Oxford, Victoria 90, London Eye and several others. I tend to gravitate to Big Ben. It's a 90-ball room that usually offers the biggest pots. Many of the rooms also feature a Jackpot and a Grand Jackpot.

I entered Big Ben and bought the max tickets. I was in it to win it! The line came and went as did the entire game. Unfortunately, I hadn't started out with a win but I stuck with it and bought another round of tickets. It took 7 calls to get it but I won the line in the next game. I noticed that I also had a good chance for two lines. I only needed #67 and #32. Although they didn't come out, once again I noticed a good opportunity for the house. I was holding my breath at 1tg but another roomie took the prize.

I couldn't complain but I wasn't about to push my bingo luck any further so I headed for the slots. I took £20 and put it toward playing Wizard's Castle. The slot game was not paying at all. I barely had enough to cover my bets. It was time to switch and go to one of my old favorites, Honey Bees. I have had pretty good luck on it in the past which is why it's a favorite of mine.

It took two spins and I won back the money I had spent on Wizard's Castle plus what I spent on bingo tickets. It was definitely a good day to Eat Sleep Bingo!