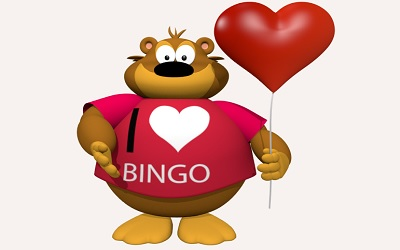 Whenever I get the chance I love to play in themed bingo rooms. I've been hooked on rooms like Bejeweled, Lucky Numbers, Last Chance Saloon, New Years and most recently, the Valentine Room at Cyber Bingo! I had some free money and couldn't wait to spend it in the love themed room. I logged in and had a look at the bingo promotions for Valentine's Day.

A couple of the promotions posted on the website with a love day theme include Cupid's Arrow and a raffle.

Cupid's Arrow $3,000 Guaranteed:

"Love is in the air as we celebrate Valentine's Day with our romantic Cupids Arrows $3,000 Guaranteed Event. There are 3 chances to win $1,000 cash, so look out for Cupids Arrow as we play these great games.

"Join us in the Valentine Bingo Room on Friday February 14th at 6pm ET and let Cupid work his magic. We will play three (3) $1,000 Guaranteed games as Top of the Hour games at 6pm, 7pm and 8pm ET, so grab your tickets and maybe Cupids arrow will have your name on it this year."

The Valentine Raffle:

"February is the month of love, a time to let the loved ones in your life know just how much you care. One lucky player is guaranteed to feel special this month as we invite you all to play in The Valentine Raffle. All you have to do is make a deposit of $25 on any Sunday during February and you will automatically be entered into The Valentine Raffle with a chance to win a brand new laptop."

The raffle is scheduled for 9am ET on Monday February 24th. If I'm lucky enough to win, I could score a new laptop. That would come in very handy and since I'll be dateless, I could use it to find a date for next year.

I played bingo in the Valentine Room which is filled with music and fun. The numbers are marked off the cards with hearts. You can' help but be happy in there. I play in a coverall game and won it straight away for almost $50. I was thrilled and felt the urge to hang out for another game. Before I knew it I had spent most of my winnings on bingo cards and had hardly noticed. The vibe in the room is so great.

If you have plans for V-Day you may want to break them and hang out with Cyber Bingo!