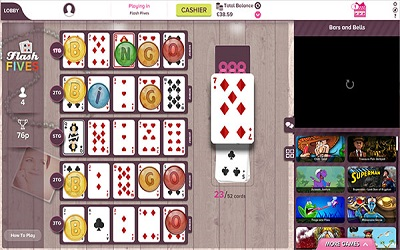 Bingo players are in for an exciting new treat with Flash Fives. The Dragonfish game has debuted at 888ladies and Posh Bingo. The games, also referred to as 52-5 bingo, takes the traditional concept of bingo but uses a 52 card deck of playing cards instead of calling the standard numbers.

In this game your bingo cards are called 'hands', which are comprised of 5 playing cards. The caller will begin calling out various cards like 5 of clubs, 8 or hearts etc. If these cards appear in your hand they'll be marked off with a colored chip. To win, all 5 of the cards in your hand must be covered.

As with other bingo games you do not have to be present to play. 888ladies assures players, "If you weren't in the room in time to see the winning message, don't worry, you'll still be awarded your wins and you can see details of previous games in the "game history" section of the "my account" menu."

Log in to give 52-5 a try. More information is available on both bingo sites.

Good luck and enjoy this new twist on traditional bingo.
By
Glo Wood