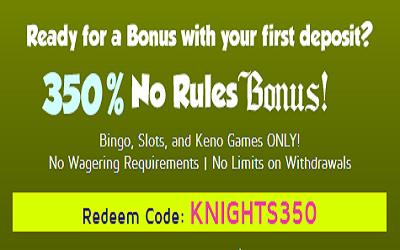 The heck with rules, we follow rules every single day! Rules at work, rules of the road, rules our mama and papa taught us and yadda, yadda, yadda the list of rules goes on and on!

It's one thing to have rules but what's worse is having them and not being able to understand them to follow them. Ahhh, Bingo players know all too well the terms and conditions of claiming Bonuses.

By time we are through reading the rules our head is spinning like the reels on a Slot right? Why make them so complicated a player needs a lawyer to figure them out and we are talking a darn good one at that.

Too often players are as nervous as a kitten in a room full of rockers, afraid they have broken some……….you guessed it RULES!

If we are bound by a certain criteria to follow why not explain it in a language that could be understood like simple?

Well you are all about to be set free from rules and Bingo Knights is our saving grace. They are offering a Welcome No Rules Bonus to all first time depositors. Make your first deposit and receive a juicy 350% Bonus.

Ok so you're asking what does this mean. Contain your excitement because it is about to be explained. Imagine this, it is quite easy to understand too with no wagering or withdrawal limit rules.

Alright there may be one teeny weeny rule, the Bonus is good to play Bingo, Slots and Keno ONLY! But what is really important here is what matters most no calculating or wondering if you met the play-through and if you do win a boat load of cash no fuss worrying about how much you can withdraw on the Bonus.

To claim this awesome Bonus offer simply redeem code: KNIGHTS350 and make a minimum deposit of $30 and you are on your way to a stress rule free gaming experience.

Remember though, if you deposit a bit more you can get the Insurance offer. That means Cash-back if you were not able to cash-out.

The Insurance is as follows:

• Deposit $100 or more and get 100% insurance

• Deposit $200 or more and get 150% insurance

• Deposit $500 or more and get a whopping 200% insurance.

Join Bingo Knights today and be sure to take advantage of the $75 No Deposit Bonus to play for Free.