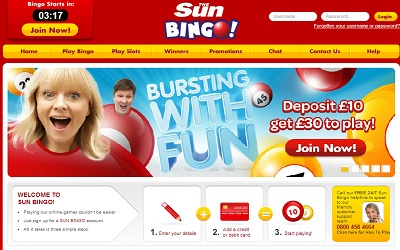 I don't know about anyone else but I am absolutely sick and tired of winter. Bring on the springtime! I was hanging out inside of course because it's way too cold to even leave the house. What to do I wondered. Ah of course, bingo! The perfect place to satisfy my longing for spring was Sun Bingo. The sun is always shining there win or lose.

First stop, the promotions page. If found the perfect promotional offer for all of looking to find a way to escape the winter blues.

"Banish Winter Blues

"Play for a fantastic weekly prize from Monday February 3 to Sunday March 2 and wave goodbye to the winter blues! Simply play £10 on Bingo, £30 on Slots or Slots Mini Games or £100 on Roulette for a chance to win!

Week 1 – 1 x 2 night four star Marriott hotel break for two + £200 spending money

Week 2 – 1 x £500 Love2shop gift cards

Week 3 – 1 x £500 cash prize

Week 4 – 5 x £100 cinema gift cards

"There are also 100 x £10 Love2shop gift cards to be won daily, for even more chances to warm up your winter!"

There's still time to get in on this offer until March 2.

I went straight for the session bingo. I get in these games because it's very much like being in a bingo hall in that you buy a set of bingo tickets and play in several games. There was no need to keep buying tickets and I could just sit back and relax and play bingo.

I wish I could say that I had some luck but unfortunately it wasn't my day in session bingo. I was far from discouraged though because I was doing what I love to do.

Next up was the 90-ball bingo rooms. I spotted a room with a game coming up in seconds with a decent prize. I hurried as fast as I could and bought my cards. As luck would have it I won the line in my first game. Feeling like my luck was on an upswing I stayed right where I was and bought cards for game after game. I had a close call in my final game. In fact it's exactly what caused it to be my final game. I had two extremely good cards that seemed to take me close yet so far from a win. It was one of those rare games that had me at 1tg for the line, double line and house. I thought for sure I had it but it turned out my instincts were wrong.

I can't complain. A day of online bingo at Sun Bingo is always a good one. It makes you able to get through the winter with such indoor fun.