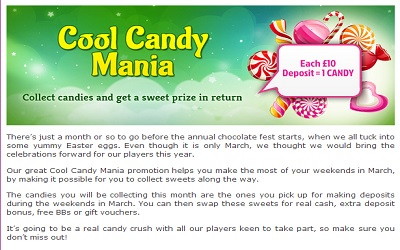 Do you ever wonder where some of the phrases we use come from? There are quite a few interesting phrases in the English language that we use every day. One of those has to be to "have a ball". What exactly does that mean? A ball was a fancy event back in the day and "have a ball" was used as a slang term in the 1920's. In honor of the history of these phrases, I was off to Have A Ball Bingo.

Have A Ball Bingo is part of the Live Bingo Network and features Cozy Gaming software.

Overall, I'm not a big fan of Cozy Gaming as I've said before but every once in a while there's a site that surprises me. Other sites within this bingo network include Landmark Bingo, Bob's Bingo, Ready Set Bingo and Naughty Bingo.

I stopped at the promotions page before I started playing bingo and saw some pretty cool offers. This is the month for Cool Candy Mania! The promotional offer is as follows:

"There's just a month or so to go before the annual chocolate fest starts, when we all tuck into some yummy Easter eggs. Even though it is only March, we thought we would bring the celebrations forward for our players this year.

"Our great Cool Candy Mania promotion helps you make the most of your weekends in March, by making it possible for you to collect sweets along the way.

"The candies you will be collecting this month are the ones you pick up for making deposits during the weekends in March. You can then swap these sweets for real cash, extra deposit bonus, free BBs or gift vouchers.

"It's going to be a real candy crush with all our players keen to take part, so make sure you don't miss out!"

I don't know about you but I love candy and I'm going to have a lot of fun collecting candy this month.

I jumped into a 90-ball bingo room and bought the maximum number of tickets for every game and I played about 7 or 8 games in a row. I wish I had something to brag about but I have no wins to speak of.

Fortunately I have a ball every time I enter a bingo room or play the slots at Have A Ball Bingo. Win or lose the games keep me coming back!