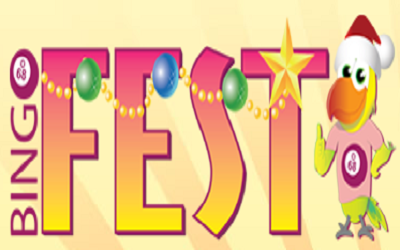 When the leftovers are all but gone this Thanksgiving weekend, Bingo Fest is going to serve up a bingo feast to surely delight in the $5,000 Maximum $15,000 extravaganza taking place on Saturday November 24th.

The refrigerator is empty and the cupboards are bare after feeding your entire family on Thanksgiving. Tonight order pizza and tell your family the cook is off duty. Hide the Christmas presents in the back of the closet where no prying eyes can snoop, grab your laptop and close the door behind you for some solitude and of course excitement.

After a busy week of cooking and shopping until you drop preparing for the Christmas season that is around the corner it's time to relax in your easy chair for a bit of "me time" and nestle in for some Bingo Fest fun.

Bingo Fest comes to the rescue and pampers you with one of the greatest promotional offers of November. Determined to spoil players and not them down after a busy week they have planned the Big Bingo Event! This requires no work on your end other than kicking your shoes off, slipping into your jammies, sitting back let the games begin.

While you are stretching your pennies on Christmas presents for Aunt Sarah and Uncle Mack and list of gifts as long as Santa's winning the Big Event games will put all your stress at rest.

The $5,000 Maximum $15,000 Game could be the answer to your prayers and make this the best holiday season ever. Join the Tourney Room this Saturday where things heat up with three $1,000 Guaranteed Games played as the Top of the Hour Games at 8pm ET. Cards for this game cost $2 each.

At 11pm ET get ready for the big game; $5,000 Maximum $15,000 game where cards are sold for $5 each. Pre-buy your cards ahead of time and don't miss out on this spectacular event.

Bingo Fest is powered by Vista Gaming and warmly welcomes players from the US. If you have not signed up already now is a great time to do it with a Free $5 No Deposit Bingo Bonus and a whopping 500% Deposit Bonus. There are loads of games and promotions including the Bingo Freeroll that takes place every day with Real Cash prizes awarded to winners.

May your Thanksgiving weekend bring you a prosperous holiday season with many exclusives to follow in the month of December!