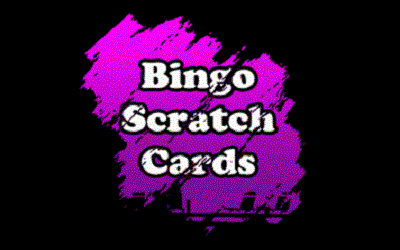 An online bingo site without Scratch Cards is like peanut butter without jelly, love without marriage or a horse without a carriage. It is the perfect compliment to the bingo suite of games offering a chance to win great prizes.

Scratch Cards are often referred as scratch off, scratchie, instant game, scratch and win and instant lottery. They have the same concept like ones you would purchase at the local market.

The lottery type of game has a long history and is played throughout the world. The original Scratch Card was the invention of John Koza, an American computer scientist and Daniel Bower a retail promotions specialist in 1974. It soon became a popular game state game that eventually moved to the online market.

Buying Scratch Cards online has gained much popularity particular at Bingo sites. The main attraction is convenience of playing at home and not waiting in long lines plus the large variety that is available.

The allure of playing the instant game is the opportunity to win big cash that is simple to play and doesn't require any skill. Scratching off three matching symbols will win the prize indicated usually found on a chart or on the symbol.

There are many themes that capture the attention of a vast audience of players with everything from sports, Poker, Blackjack and fun characters. There are literally 100's of choices across the internet including Lottery sites that have enormous Jackpots and cater exclusively to lottery and Scratchies.

Players are at an advantage playing online with features that are not available in local markets. Features include a wide range of ticket prices that can be played for as little as .25. Auto Play will automatically scratch off the cards or manual play option is available.

Many promotional offers are designed around Scratch Cards offer a Free card for a chance to win real cash to new and existing players. It is great alternative to Bingo when players are looking for a different game.

With technology advancing all the time the graphics and designs is a major draw with phenomenal rich colors that are alive and vibrant. Some Instants Games have massive Jackpots with up to one million up for grabs.

It is a fast paced game that doesn't require loads of experience to play. The game of chance can be found at most online bingo sites and if instantaneous winning appeals to you it is the perfect game to play.