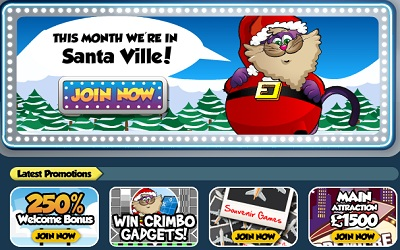 Forget Sex and the City. It's all about bingo and the city at City Bingo! Just a few girls and I hit the bingo rooms along with a cosmo or two. We leave the boys at home and do what we do. Besides, girls just want to have right?

City Bingo has some of the coolest promotional offers. If you like Sing Bingo, then you'll be happy in the city too. The cat mascot is adorable and I hear that he's a world traveler. He make stops around the world and gives away holidays to lucky bingo players. This time of year he's all dressed in his jolly Santa suit and he's got loads of Crimbo gifts to give away.

This month, bingo players can win a series of gadgets to give away as gifts or keep just for you. Complete a series of fun tasks and win items such as an HD TV, Nintendo Wii or even an iPad Mini. If you've got the gift to gab, then the Reindeer Race Chat Tourney is just the thing for you. Rudolph is hitting the bingo rooms and giving away Diamonds. Build your points which may be redeemed for a variety of goodies. Finally, Santa is taking players on a sleigh ride and his bag is filled with bonuses and even real cash.

I love the slots offered at City Bingo. I swear that I log in with every intention of playing bingo and somehow I get caught up in the slot games. I've even been known to play Instant Win games, Blackjack or even Roulette. I can't say that I'm lucky on anything besides bingo or slots though.

This trip to the city was strictly for bingo. I had my choice between 75 ball or 90 ball bingo. I joined the 5p room for a bit of 90 ball bingo. I figured that I couldn't go wrong with three opportunities to win. I bought the maximum allowable tickets at first and lost miserably. My balance was getting lower so I bought fewer tickets. I'm always nervous to do that because I feel like the more tickets you buy the better your chances are.

It turns out that it's all down to pure luck. The line prize came and went but I snagged a decent prize for the double line. I suppose it's time to change my way of thinking!

You never know what to expect when you play bingo in the city.